Amanda Noelle Releases New Single
"Love Is Greater"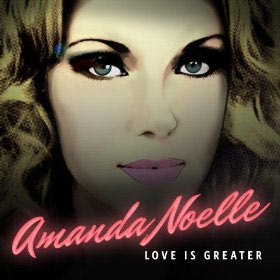 NEWS SOURCE: Save The City Records
September 11, 2012
Seattle (Sept 11, 2012) - Amanda Noelle, formerly of Christian pop trio Kimber Rising, is releasing her radio single "Love Is Greater" to iTunes and other digital music outlets today. "Love Is Greater" is being played on a number of stations across the country and now fans can purchase and download the single from their favorite digital store, including iTunes, Amazon, Google Play, Rhapsody, and Zune Marketplace. Given the anniversary of September 11th, Amanda and Save the City Records are donating 20% of the sales made today from the single to Tuesday's Children, a charity that supports children affected by 9/11.
The song "Love Is Greater" is a lighthearted pop single made to remind us of friends, good times, and other things for which to be thankful. Amanda says, "Even on my best day when I feel like everything is going great, if I don't remember who it comes from, then I've truly missed it. God is my joy in ALL times, and I feel like every word reflects just that. I pray this song brings the same thing I felt to everyone who hears it - a little bit of sunshine in a cloudy world."
About Amanda Noelle:
Cutting through today's in-your-face musical messages about beauty, allure, and other projections of young womanhood, is the voice of Amanda Noelle. With lyrics that speak to the feminine heart and a musical vibe that lifts the soul, Amanda Noelle pours out the positive, healing truth of how she discovered herself moving from insecurity to wholeness by opening her life to a love like she'd never known. Rising above the unattainable ideal that's woven into today's hit music mix, Amanda speaks through her music into the lives young women.
As a solo artist, Amanda Noelle is now adding to the tens of thousands already touched by her music as part of the Nashville based, international Christian pop trio, Kimber Rising - opener for Mandisa, Lecrae, Natalie Grant, and tour colleagues with Building 429, Todd Agnew and 33 Miles.
Influenced by songwriters Jonny Lang, Gavin DeGraw and Marc Broussard and vocal artists Beyonce, Mariah Carey and Stacy Orrico, the music of Amanda Noelle interfuses playful, soulful, pop rhythms with a depth of real life that resounds with her deep faith: "I want people to know there's a God who loves them, cares for them, and created them to be amazing."
For more information, visit Amanda Noelle online:
amandanoellemusic.com
twitter @iamamandanoelle
facebook.com/amandanoellemusic
savethecityrecords.com