YOUTUBE TO DEBUT FOR KING & COUNTRY'S OFFICIAL "THE PROOF OF YOUR LOVE" MUSIC VIDEO ON SEPTEMBER 24, MAKING IT THE FIRST-EVER CHRISTIAN MUSIC VIDEO TO PREMIERE IN PARTNERSHIP WITH YOUTUBE MUSIC
Australian Breakout Duo, for KING & COUNTRY's "The Proof of Your Love," is currently in the Top 10 on Billboard's Christian Songs Chart and Climbing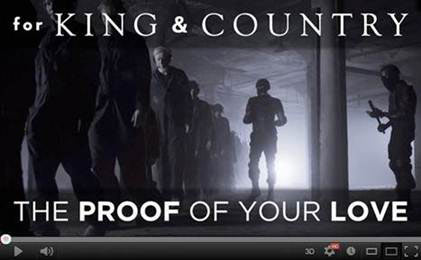 NEWS SOURCE: Word Entertainment
September 21, 2012
NASHVILLE, TN - (September 21, 2012) - On September 24, YouTube will debut and feature Australian duo, for KING & COUNTRY's music video, "The Proof of Your Love," making it the first-ever Christian music video premiered on YouTube Music (http://www.youtube.com/music). The single is also scaling the radio charts with current positions in the Top 10 across the board (NCA Monitored, No. 10; AC Monitored, No. 9 and CHR, No. 4).
Set in a dystopian prison, the dramatic video begins with inmates marching in unison with Big Brother-like guards monitoring them. In the official trailer, which can be seen here http://youtu.be/o15AIXuDS3A, Joel (for KING & COUNTRY) sets the scene, "What if our ears were muted, our mouths silenced, our eyes blinded and our souls so far from hope that we were all but lost? Could one moment, a simple act of courage, breathe light into darkness?"
Joel further describes the elaborate and inspiring filming process, "During the 1st day of filming, I paused to take in the scene, 60+ extras, 22 crew, trucks, electricians and set designers. There was a moment where I had the thought, 'this is really happening!' This music video is a true testament to the power of the team. Each and every person rallied together to make this the very best it could be. After all the writing, dreaming and working with our brother Ben [director], we're so thrilled to present to you our first-ever concept music video."
"This project was truly a 'labor of love'," continues director Ben Smallbone of Radiate Films. "My brothers, Joel and Luke, not only acted and performed in the video but also worked with me behind the scenes in writing and editing. It's exciting to see the vision that we dreamed together so many months ago finally come to fruition. Working with my brothers was both a fun and seamless process as its something we've done since we were young. Our hope is that this video will not just entertain but that the message will also inspire. What is the message? You decide."
On September 24, the official "The Proof of Your Love" music video will premiere along with two "Inside Look" videos at (http://www.youtube.com/music). On September 25, fans will be able to purchase the video on iTunes for $1.99. "The Proof of Your Love" single can also be purchased on iTunes (http://smarturl.it/theproofofyourlove). September 26, for KING & COUNTRY kick off "The Proof of Your Love Tour" in Overland Park, KS alongside Jason Castro and Dara Maclean. For further information and upcoming tour dates on for KING & COUNTRY, please visit www.forKINGandCOUNTRY.com.
"The Proof Of Your Love," is the second single from the duo's debut album, Crave, which was released earlier this year to outstanding critical praise. for KING & COUNTRY were named as one of Billboard's 17 acts to watch in 2012 and are already Contemporary Christian Music's best-selling new artist of 2012. New Release Tuesday noted that Crave was "One of the Best Debut Projects in Years!" Their music has also piqued the interest of music fans outside the Christian genre. Entertainment Tonight's The Insider.com said the duo, "make music that speaks directly to your heart" and have been "gaining popularity in the alt-rock genre." American Songwriter commented that "for KING & COUNTRY may just be Australia's answer to Coldplay."
About YouTube
Founded in February 2005, YouTube allows billions of people to discover, watch and share originally-created videos. YouTube provides a forum for people to connect, inform, and inspire others across the globe and acts as a distribution platform for original content creators and advertisers large and small. See our company timeline for more information on our company history.
About Word Entertainment
A leader in the music industry, Word Entertainment, a Warner/Curb company, is a unique, comprehensive entertainment company comprised of multi-faceted artist service departments including publishing, merchandising, booking, and online initiatives. Word Entertainment represents some of the top names and brands in music, including Meredith Andrews, Chris August, BarlowGirl, Francesca Battistelli, Big Daddy Weave, Jason Castro, Patrick Ryan Clark, Group 1 Crew, for King and Country, Everfound, Dara Maclean, Point Of Grace and Sidewalk Prophets and is home to 25 Entertainment, Word Distribution (representing Curb Records and Big Idea/VeggieTales among others), Word Print, Word Films, Word Music Publishing and Word Label Group's Word Records and Fervent Records.
# # #
For more info on for KING & COUNTRY visit the JFH Artists Database.