AMY GRANT PERFORMS AT CHILDREN'S HEALTH FUND 25TH ANNIVERSARY CONCERT
AT RADIO CITY MUSIC HALL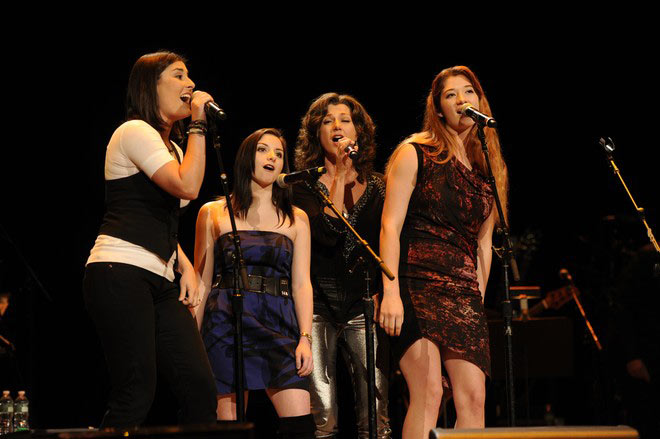 NEWS SOURCE: The M Collective
October 11, 2012
Nashville, Tenn. (Oct. 11, 2012) -- Amy Grant performs on stage with her daughters (l-r: Jenny, Millie and Sarah) at the Children's Health Fund 25th Anniversary Concert at Radio City Music Hall on October 4, 2012 in New York City. (Photo by Kevin Mazur/WireImage)
About Amy Grant
Amy Grant's career spans over 25 years and stretches from her roots in gospel into an iconic pop star, songwriter, television personality and philanthropist. Grant has sold more than 30 million albums, including 1 Quintuple Platinum album, 1 Triple Platinum and 1 Double Platinum album, as well as additional 6 Platinum and 4 Gold albums. She has won six GRAMMY® Awards in multiple categories, beginning with the platinum selling Age to Age in 1982, and 25 GMA Dove Awards, including four-time Artist of the Year awards. She also has six No. 1 hits, including "Baby, Baby" and "Every Heartbeat," and is one of only two Christian artists to be awarded a star on the legendary Walk of Fame in Hollywood. In 2003, she was inducted into the Gospel Music Hall of Fame. In 2006 Grant announced her first ever label shift to EMI Music Group where her entire music catalog was re-mastered and released via a GREATEST HITS album and made available for the first time digitally. Grant will release her first new studio album in three years in early 2013.
Children's Health Fund
Founded in 1987 by singer/songwriter Paul Simon and pediatrician/advocate Irwin Redlener, M.D., Children's Health Fund (CHF) is the nation's leading pediatric provider of mobile-based health care for homeless and low-income children and their families. CHF's mission is to bring health care directly to those in need through the development and support of innovative medical programs, response to public health crises, and the promotion of guaranteed access to health care for all children. CHF currently has 50 mobile clinics serving hundreds of locations across the country. Over the past 24 years, the organization has supported more than two million health care visits for disadvantaged children, often in places where doctors and health care providers are in short supply. For more information about CHF, visit www.childrenshealthfund.org.
[Get Connected with Amy Grant]
Web site // www.amygrant.com
Facebook // www.facebook.com/amygrant
Twitter // www.twitter.com/amygrant
###
For more info on Amy Grant visit the JFH Artists Database.