ICON FOR HIRE SIGNS WITH LINKIN PARK AGENT MICHAEL ARFIN (ARTIST GROUP INTERNATIONAL) FOR WORLDWIDE BOOKING
AFTER 20 MONTHS OF TOURING, BAND WORKING ON NEW RECORD
TO RELEASE IN 2013

BAND PLANS 'FASHION FORWARD' NEW VIDEO COMING SOON
CURRENT MUSIC VIDEOS NEARING 3 MILLION VIEWS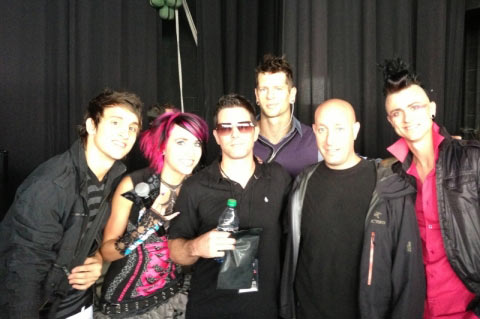 (L to R) Josh Kincheloe (Bass), Ariel (Lead Vocals), Tim Cook (manager), Adam Kronshagen (Drums), Michael Arfin (Agent) Shawn Jump (Guitar)
NEWS SOURCE: Merge PR
October 12, 2012
SEATTLE, WA - October 12, 2012 -Tooth & Nail Records' rock/pop act ICON FOR HIRE has just signed with Linkin Park's agent Michael Arfin of Artist Group International for worldwide booking. This signing positions ICON FOR HIRE to continue to impact the music scene with their infectious live show and unique fashion sense.
The band's manager Tim Cook states about the new signing, "Michael Arfin is the perfect partner for Icon For Hire. Not only is he one of the top agents in the world, he understands that their vision extends beyond touring into the fashion world and other areas of the entertainment business."
"I'm extremely excited to be working with Icon For Hire," shares Michael Arfin. "The band is poised for huge success in all spectrums of the entertainment business and Ariel is an absolute star!"
Since the release of their label debut, Scripted, ICON FOR HIRE has been touring constantly traveling across the nation as well as internationally to Germany, Amsterdam and Canada. They have toured with the likes of RED, Brian "Head" Welch, Emery, P.O.D, Love & Death and Family Force 5.
"Being on the road for 20 months straight has given us plenty of experiences to write about on the next record," shares drummer Adam Kronshagen. "I don't think we have ever been this anxious to write new music and get it in the hands of our fans."
ICON FOR HIRE has been working hard while on the road to prepare for the forthcoming album.
President of Tooth & Nail Records Brandon Ebel states, "The band's first album had the highest new artist debut street week sales in our label's history. We are very excited about this next chapter and engaging Icon for Hire to be creative and think outside of the box to make an amazing sophomore release."
"Our writing process has substantially changed due to our touring schedule," describes guitarist Shawn Jump. "Pieces of our next record are everywhere the drums are on a laptop, the lyrics are in Ariel's journals and the guitar riffs are recorded in my iPhone. A lot of people don't realize that a large percentage of our songs start out as hip-hop songs with Ariel rhyming over a drum loop. We have already started looking for the right people to help us capture the various sounds, and are even considering producers from the hip-hop world."
Not only has the band developed a strong following while on the road, ICON FOR HIRE has become a cyber hit with their popular music videos. The videos for "Make a Move" and "Get Well" combined are nearing 3 million views on YouTube.
Frontwoman Ariel is stoked about working on the new video. "We are partnering with underground artists to produce a video where nothing is held back. We are pushing the boundaries, creatively and visually, to create a fashion forward work that we can't wait to share with our fans."
About ICON FOR HIRE:
Female fronted and hailing from Decatur, IL, ICON FOR HIRE is comprised of Ariel (vocals) Shawn Jump (guitar) and Adam Kronshagen (drums). Since 2007, the band has been establishing their strong following by touring extensively across the nation. From the beginning, the band has written music with a positive view without downplaying the hardships in life. They released their Tooth & Nail Records' label debut Scripted in 2011. This release debuted on the Billboard Top 200, at No. 4 on the iTunes Rock chart and No. 19 on the iTunes overall albums chart. They were also the iTunes Discovery Download artist for their street week. Not only has the band been successful with sales and touring, they have been featured in publications like Revolver Magazine, J-14, Alternative Press, Decoy Music and Campus Circle. Ariel also has a fashionista side as she has her own Etsy store where she sells clothes and accessories she makes. The band sports her fashion creations on tour as well.
###
For more info on Icon For Hire visit the JFH Artists Database.