CHRISTIAN MUSICIAN SUMMIT NASHVILLE DEEMED HUGE SUCCESS
Online Streaming of Classes, Concerts Featuring Top Christian and Country Music Industry Musicians Available Soon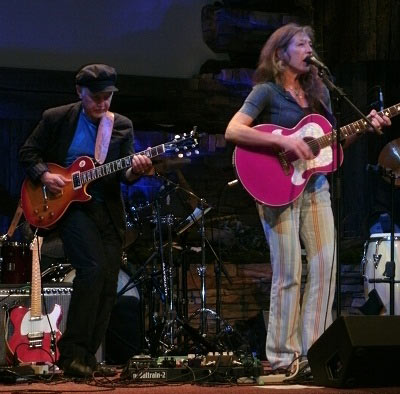 Photo caption: Phil Keaggy, left, and Ashley Cleveland, right, rocked the house at CMS Nashville. (McCain & Co. Public Relations photo)
NEWS SOURCE: McCain & Co.
October 15, 2012
NASHVILLE, Tenn. (October 15, 2012) - The Christian Musician Summit, which debuted in Nashville October 4-6, with workshops and performances featuring top musicians in the contemporary Christian and country music industries, including Ashley Cleveland, Phil Keaggy, Ron Block, Allen Shamblin, Brenton Brown & The Worship Republic, Steve Taylor, Tom Hemby, Dave Cleveland, Cindy Morgan, Zoro the drummer, and many others, was a Music City hit, according to organizers and participants. For anyone who missed the conference or desires to relive the experience, CMS Nashville highlights soon will be available to be streamed online. CMS Nashville was presented in partnership with Kingdom Bound Ministries.
"CMS Nashville had more musical moments to it than any conference we have done before... and that is saying something because we have had some memorable moments over the years," says Bruce Adolph, producer of Christian Musician Summit. "The level of musicianship was over the top. You couldn't throw a guitar pick without hitting an 'A-list' session player!
"Each evening concert had a Songwriter in the Round segment and they were outstanding as well. The registrants got to spend quality time with well-known musicians who led their workshops with a heart to impart what they knew to the attendees," Adolph says. " It was amazing! To see Phil Keaggy, Ashley Cleveland and Al Perkins walk on and be backed up by the Blues Counsel Band was one of the highlights. Then to have Dave Cleveland and Tom Hemby's session player-laden bands take you on a musical adventure was incredible, too."
The conference will be available via online streaming soon, Adolph says, with the streaming package to include 15 workshops and live music bonus tracks available by registering at christianmusiciansummit.com. "CMS Nashville was an amazing time of improving skill and inspiring talent," Adolph says.
For more information, including online streaming details, visit christianmusiciansummit.com. To like on Facebook, go to facebook.com/groups/christianmusiciansummit or follow on Twitter (@cmsproductions).
About Christian Musician Summit:
The Christian Musician Summit conferences, co-founded by Bruce Adolph and Matt Kees, president of Christian Musician Summit, Inc., are designed to inspire and assist worship leaders, musicians, technicians, pastors, songwriters, and independent artists to sharpen their skills for God's glory. In addition to the workshops and concerts, the CMS conferences also feature exhibits with audio/video and music companies who offer products and services for the Christian church market. These events provide a time for musicians and technicians of all levels to come and learn, network and fellowship. In addition to CMS Nashville, CMS Northwest is scheduled for November 9-10 in Seattle, and CMS at The Chapel in Western New York is scheduled for May 3-4, 2013, in Buffalo, N.Y. CMS Nashville and CMS at The Chapel are presented in partnership with Kingdom Bound Ministries.
For more information about Christian Musician Summits, visit christianmusiciansummit.com.