LIFEHOUSE TO RELEASE NEW ALBUM
ALMERĶA
ON DECEMBER 11th
Band To Perform "Between The Raindrops"
On The Tonight Show On October 30th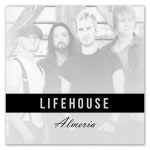 NEWS SOURCE: SKH Music
October 19, 2012
New York, NY - October 19, 2011 - Geffen Records recording artists Lifehouse will release their first new album in over two years and their sixth overall on December 11th titled: Almerķa. Produced by long time collaborator Jude Cole, Almerķa finds Lifehouse expanding and stretching out the Lifehouse "sound."
"We just felt like some sounds needed to evolve," remarked lead singer Jason Wade. "We knew we had to shake things up creatively and go back to the drawing board, try something new. It was a liberating experience; I feel like we can take all our different musical influences and they can kind of coalesce together and live in the same space without any rules or guidelines. This album was just very in-the-moment, or should I say letting moments happen instead of forcing something and trying to manipulate it." The picturesque Spanish town of Almerķa rests on the coast of the Mediterranean Sea and was the location for the filming of many of the classic spaghetti westerns filmed in the mid 1960's. The studio at Box Canyon, CA where Lifehouse recorded Almerķa had a similar arid landscape.
"Sometimes the backdrop of where you create can reverberate through the music," commented Wade. "This was the case with spending some time up in Box Canyon. There was already reflections of spaghetti western sounds in the music, but the landscape almost infused some of the soul of the westerns into a good portion of the album"
Lifehouse will be performing the first single from the album: "Between The Raindrops" on The Tonight Show With Jay Leno on October 30th. "Between The Raindrops" features Natasha Bedingfield and is the band's first ever duet.
Lifehouse: singer Jason Wade, drummer Rick Woolstenhulme, Jr., bassist Bryce Soderberg and guitarist Ben Carey -- have made earnestness and soul-searching their calling card since emerging from Los Angeles during the late 90s, first as Blyss and since 2000 as Lifehouse. "Hanging By a Moment" a #1 alternative hit which crossed over to become Top 40's Most Played Song of 2001, while 2002's Stanley Climbfall solidified the band as a touring force. Their 2005 self-titled platinum effort yielded "You and Me," a giant hit ballad that set a record by spending more than 60 weeks on Billboard's Hot 100 chart. 2007's Who We Are, included the hits "First Time," "Whatever It Takes" and "Broken," which combined sold over 3 million digital downloads. The band's last album, Smoke & Mirrors debuted at #6 on the Billboard Top 200 and was certified Platinum. The band has now charted fifteen consecutive singles at multiple formats making them one of the most successful bands of the 21st century to date. Almerķa is available for special pre-order options now through the band's website at: www.lifehousemusic.com
###
For more info on Lifehouse visit the JFH Artists Database.