Germany's 33rd Annual of Christmas Rock Night Returns This Weekend!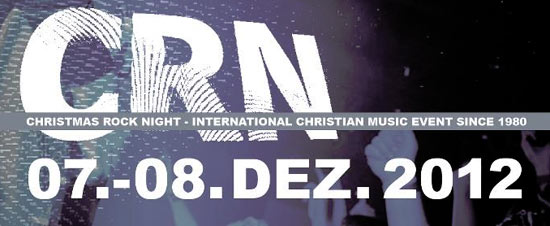 NEWS SOURCE: CRN
December 3, 2012
For yet another year, the annual Christmas Rock Night festival in Germany presents an impressive lineup of Christian rock bands, including a one-time reunion of the "classic" Disciple member lineup (w/ Brad Noah, Tim Barrett and Travis Wyrick) celebrating the band's 20th year this Friday night, while the current Disciple line-up will be headlining the event on Saturday.
For most of the bands, performing at CRN is like coming home; they play yet another year at this small but beloved festival outside of Düsseldorf, including Thousand Foot Krutch, Fireflight, Icon For Hire, Children 18:3, Wolves At the Gate and I Am Empire. Both Manafest and For Today join the CRN roster on Dec 7+8 for the first time. A couple of European bands will be performing too, including End of September from Sweden and the 2 most popular German bands, Good Weather Forecast and Sacrety.
A glimpse of what it looked like here last year:
https://www.youtube.com/watch?v=HRRknJOEqcc
https://www.youtube.com/watch?v=UnioF4xkjGc
https://www.youtube.com/watch?v=Mx6IDhAQKZg
# # #