STUMBLING ON OPEN GROUND REVEALS
MUSIC INDUSTRY ICON'S FAITH IN THE FACE OF CANCER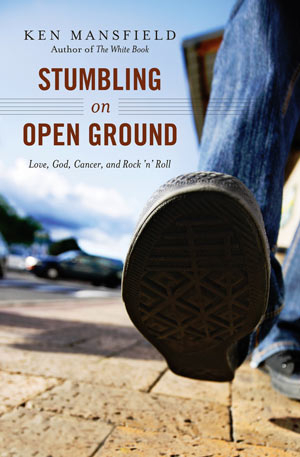 NEWS SOURCE: Turning Point PR
December 6, 2012
NASHVILLE, Tenn.— GRAMMY® Award-winning former Beatles executive and music industry icon Ken Mansfield chronicles a deeply personal journey of faith and struggle in his highly-anticipated fourth title, Stumbling on Open Ground: Love, God, Cancer, and Rock 'n' Roll (Thomas Nelson, January 15).
Revealing ongoing trials with two bouts of cancer, Mansfield's memoir thoughtfully frames his spiritual struggle and physical pain in the light of ultimate healing and triumph. Sharing personal prayers and honest insight alongside remarkable moments from his storied music career, he confronts his failing body, a faith that both falters and soars, and the questions that aren't supposed to be asked—but need to be answered.
Stumbling on Open Ground also features contributions from Mansfield's wife of 25-years, Connie. Offering a candid glimpse into a marriage facing one of life's greatest challenges, the couple trace the work of an extraordinary God who has transformed them both in the process.
"Dealing with cancer is not as linear as most books describe the ordeal," Mansfield shares. "Going into it, going through it, and coming out of cancer is not that orderly. The battle is more of a hanging on, a falling apart, a sense of loss, and a lot of lonely flailing among the rubble."
"This is a quest for deeper comprehension, a desire to dip beneath the opaque surface," he adds. "As a child, I would ask my earthly father how to do things. As a child of God, I am asking my heavenly Father how this all works between Him and me."
Ken Mansfield's legendary career in the music industry includes tenures as the U.S. manager of the Beatles' Apple Records, an executive at Capitol Records, a vice president at MGM Records, and president of Andy Williams' Barnaby Records (CBS Records), among numerous influential roles. He has worked with such artists as the Beach Boys, James Taylor, Roy Orbison, Glen Campbell and Lou Rawls.
Instrumental in launching country music's "Outlaw" movement in the 1970s, Mansfield was involved in the careers of Waylon Jennings and Jessi Colter, among others. He produced Colter's #1 hit "I'm Not Lisa," as well as Jennings' 1975 landmark recording, Are You Ready For The Country. He also produced the Gaither Vocal Band's GRAMMY® Award-winning 1991 Homecoming album. The seminal release precipitated the resurgence of Southern Gospel music and the Gaither Homecoming series of recordings, videos and concerts.
Since devoting his life to Christ more than two decades ago, Mansfield is now an ordained minister and sought-after speaker. He appears at churches, special events and colleges across the nation and has authored The Beatles, The Bible and Bodega Bay (B&H); The White Book: The Beatles, the Bands, the Biz: An Insiders Look at an Era (Thomas Nelson); and Between Wyomings (Thomas Nelson).
Stumbling on Open Ground: Love, God, Cancer, and Rock 'n' Roll ($15.99), a 256-page trade paper title, will be available January 15 from Thomas Nelson.
For further information, visit www.thomasnelson.com.