ICON FOR HIRE "OFF WITH HER HEAD" VIDEO HITS 200K VIEWS IN ONE WEEK!
CYBER HITS WITH PREVIOUS TWO VIDEOS -- NEARING 4 MILLION VIEWS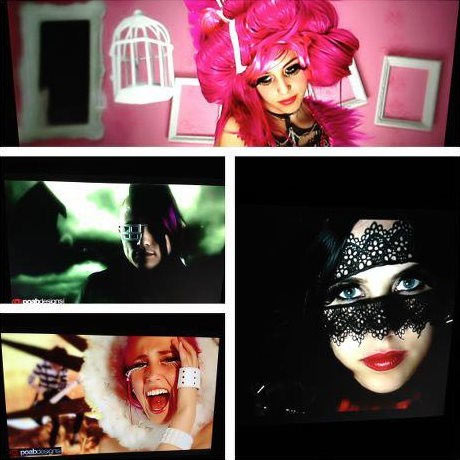 NEWS SOURCE: Merge PR
December 18, 2012
SEATTLE, WA - December 18, 2012 - Continuing to push the boundaries of fashion and music, ICON FOR HIRE recently released their third music video from the debut album, Scripted. Since premiering "Off With Her Head," one week ago, the video has already received 200k views.
ICON FOR HIRE spent two days in Compton, CA (South Los Angeles) filming the video with a variety of the hottest underground artists. Frontwoman and fashion designer, Ariel, worked with the team for weeks to create a fashion-forward, otherworldly interpretation of the hit song. Click here to view the music video.
ICON FOR HIRE has become a cyber hit with their previous videos, "Make a Move" and "Get Well," nearing 4 million views combined on YouTube.
In support of Scripted, ICON FOR HIRE spent a remarkable 18 months touring around the world.
The band is currently writing and recording for their new album that will release in Fall 2013 on Tooth & Nail Records. Stay tuned to Icon For Hire's Facebook and Twitter for more details on the forthcoming album.
About ICON FOR HIRE: Hailing from Decatur, IL, Icon For Hire caught the attention of Tooth & Nail Records in 2009, signing in 2010. The group then released, Scripted, in 2011 which shattered first week sales becoming the highest new artist debut in Tooth & Nail's history. The record debuted on the Billboard Top 200, at No. 4, on the iTunes Rock chart, and No. 19 on the iTunes overall albums chart.
ICON FOR HIRE is: Ariel (vocals) Shawn Jump (guitar) and Adam Kronshagen (drums).
# # #
For more info on Icon For Hire visit the JFH Artists Database.