NEWSBOYS EXTEND THEIR "GOD'S NOT DEAD TOUR,"
ANNOUNCE SPRING 2013 DATES

NEWS SOURCE: Merge PR
January 21, 2013
Nashville, Tenn - 21 January 2013 - Newsboys want to continue to spread the word that God is certainly not dead! To do just that, this award-winning and chart-topping band announces they will extend their popular "God's Not Dead Tour" to hit 30+ dates through this spring. The tour kicks off February 15 and runs through May 12.
This extension of the God's Not Dead Tour will be held over two legs. Building 429 will appear with Newsboys on the first half, while the second half will feature Britt Nicole. All Things New and duo CAMPBELL will appear on all the spring dates.
Newsboys will also continue their high-demand VIP Experience during the entire tour. This special tour package allows fans a true "VIP" experience, which includes a pre-show entrance and priority check-in, an exclusive autograph session, as well as a Q&A event with the band. VIP Experience ticket holders also will receive collector's edition merchandise, such as a collector's edition laminate and band photo.
Over the course of their 2012 sellout tour, the Newsboys' God's Not Dead Tour has impacted thousands of lives, both locally and internationally, making it one of the most in-demand nights of worship, praise and celebration. This leg of the tour will again be sponsored by Compassion International, where more than 8,000 children were sponsored through last year's partnership with the organization.
As the band readies to dive into this spring leg of the tour, concertgoers can anticipate getting to hear many of the band's biggest No. 1 hits, such as "God's Not Dead," "Born Again," and their latest chart-topping hit, "Your Love Never Fails," which has been No. 1 for six weeks in a row at Hot AC radio.
More dates are being added daily, so be sure to check for the latest updates at Newsboys.com and the tour's official webpage at GodsNotDeadTour.com. Below is a highlight of the spring leg tour stops:
FEBRUARY
15 - Arvada, CO
16 - Artesia, NM
17 - Andrews, TX
19 - Farmington, NM
21 - Las Vegas, NV
22 - Oceanside, CA
23 - Bakersfield, CA
24 - Tuscon, AZ
MARCH
14 - Durham, NC
15 - Simpsonville, SC
16 - Knoxville, TN
17 - High Point, NC
22 - Miami, FL
APRIL
04 - Cordova, TN
05 - Wichita, KS
11 - Canton, OH
MAY
03 - Mobile, AL
10 - Centerville, OH
*Dates and supporting acts are subject to change
# # #
About Newsboys:
This GRAMMY®-nominated and Dove Award-winning band has sold close to 8 million units, has garnered five Gold albums and 28 No. 1 radio hits. With the 2010 release of Born Again, its first week out was the largest street week of their careers. They sold an astounding 45,311 units and hitting No. 4 on Billboard's overall chart, charting above new releases from such artists as Justin Bieber, Sting and M.I.A. Its self-titled single topped the charts for 8 weeks, gaining close to eight million impressions to date. The CD also garnered three No. 1 hits.
Newsboys released God's Not Dead on November 15, 201. This rock-driven worship album finds front man Michael Tait and his band mates who've played together for two decades - Jeff Frankenstein (keys), Duncan Phillips (drums), and Jody Davis (guitar) -with some of today's most widely church-embraced modern worship anthems as well as several original and never-before-released worship songs written by some of today's biggest worship songwriters. It's title song, "God's Not Dead," topped CHR's charts for seven weeks in a row, as well as hitting No. 1 at AC Radio. The album's current No. 1 song is "Your Love Never Fails," which has been at the top of the charts for six weeks at Hot AC (formerly CHR).
Renown for their heart-pumping live concerts, the tight knit Newsboys unit continues to headline gigs in the U.S. and around the world. Just last year they captured the headlining slot on the world's biggest tour, the Winter Jam Tour, playing to more than half a million people. Stay tuned to Newsboys.com for the most updated tour dates and latest information on the band.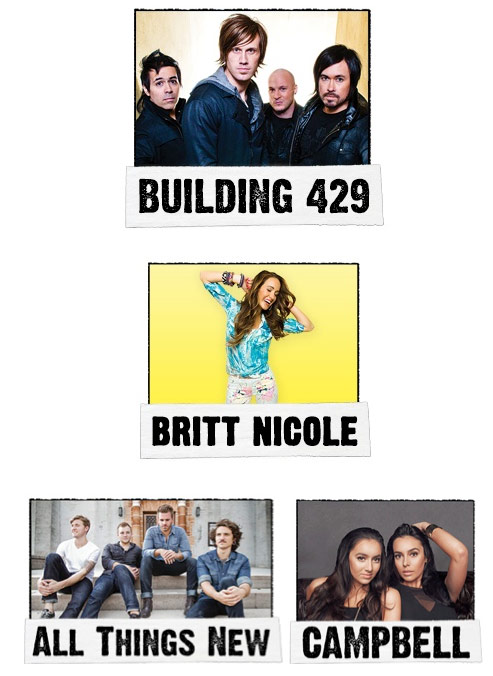 For more info on Newsboys visit the JFH Artists Database.