Andrew Peterson And Jason Gray Team For The Storytellers Tour Which Launches February 16th In Illinois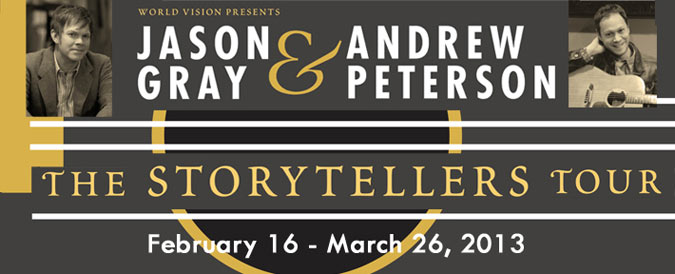 NEWS SOURCE: Bozeman Media
January 29, 2013
Nashville, TN (January 29, 2013) ----- Two of Christian music's premiere singer/songwriters will launch their first tour together next month. Andrew Peterson and Jason Gray will start The StoryTellers Tour February 16th in Illinois and will conclude March 16th in Ohio. Both of them will bring their unique brand of humor, heartfelt lyrics and intimate performances that are sure to delight their many fans across eight states. Tickets are now on sale and may be purchased at each venue, and can be found at www.andrew-peterson.com or www.jasongraymusic.com.
"As much as I love Jason's songwriting, and excited as I am about doing these concerts, I'm even more excited about having several weeks of time with one of my dear friends," explains Peterson. "I don't know anybody who can communicate with an audience like Jason can. It's a rare gift, and I plan to take copious notes and steal as much as possible from him on this tour. Anyone out there who hasn't seen him live is in for a huge blessing, even if he has a weird Michael Jackson head-whip thing he does when he gets into a song."
"Andrew Peterson has always been one of my heroes," adds Gray. "He is a truth-teller of the highest order and creates some of the most beautiful music I've heard. I'm also grateful to call him my good friend. We've talked about doing a tour together for years and I'm excited we finally get to do it. Oh yeah, and he throws like a girl."
About Andrew Peterson
Andrew Peterson is a man of many talents with a successful recording and songwriting career, as well as being an award-winning author and the host of a highly popular online creative community known as the Rabbit Room ( www.RabbitRoom.com). Peterson released his new album, Light for the Lost Boy on August 28, 2012 to rave reviews….hailing the project "as best album of the year so far." His previous project, Counting Stars debuted at #1 on iTunes, and #6 on Billboard. His single Dancing in the Minefields reached the Top 10 on the Christian AC chart, while the video for the song has received well over 1,000,000 views online. Peterson is currently working on his fourth and final book in the Wingfeather Saga series that releases 2013, with book two winning the 2010 Christy Award for Young Adult Fiction. Last fall Peterson hosted Hutchmoot, the third annual Rabbit Room conference for lovers of art, songs, and stories-an event that sold out in seven minutes! Peterson appeared on the spring and fall legs of the Steven Curtis Chapman Songs & Stories Tour in 2011 and 2012, and last December embarked on his 13th annual Christmas tour, Behold the Lamb of God Tour. In January 2013, Peterson will make his debut appearance on the Grand Ole Opry. For more information on Peterson please visit www.andrew-peterson.com.
About Jason Gray
After enjoying a successful indie music career, Gray signed with Centricity Music in 2006 and released his debut project All The Lovely Losers to critical acclaim in 2007. His second project, Everything Sad Is Coming Untrue, was listed as the #8 best faith-based album for 2009 on the Top Ten critic's list for CCM Magazine. Gray began 2011 by winning ASCAP's Performance Award that is based on radio airplay for More Like Falling In Love, that peaked at #4 in late 2010, with his follow-up single, I Am New, peaking in the Top 10 on the AC charts. In September 2011, Gray released his third studio album, A Way To See In The Dark and the first single, Remind Me Who I Am, peaked at #4, had over 3-million views online, won Gray his second ASCAP award and became the #1 downloaded song on the iTunes Christian Chart. The second single, My Hope Is In You, also reached the Top 5 on the AC charts. Last year saw Gray releasing his first Christmas project, Christmas Stories: Repeat The Sounding Joy and headlining his first Christmas tour. Following The Storytellers Tour, Gray will head into the studio to begin recording his 5th project for Centricity Music that will be released this coming winter.
About Centricity Music
Centricity Music is an independent recording and publishing company based in Bellevue, Washington and Nashville, Tennessee. The company's mission is to enable our artists to create life-changing experiences for the world. Centricity Music's artist roster includes; Aaron Shust, Andrew Peterson, Jaime Jamgochian, Jason Gray, Remedy Drive, Seth Mosley, Sixteen Cities, and Unspoken. Additional information is available online at www.centricitymusic.com.
The Storytellers Tour Schedule (all dates are subject to change):
02/16/13-Harrisburg, IL
02/22/13-Syracuse, NY
02/23/13-Woodbridge, VA
02/24/13-Knoxville, TN
03/01/13-East Ellijay, GA
03/02/13-Charlottesville, VA
03/03/13-Williamsburg, VA
03/09/13-Racine, MO
03/15/13-Elmhurst, IL
03/16/13-North Royalton, OH
###
For more info on Andrew Peterson visit the JFH Artists Database.
For more info on Jason Gray visit the JFH Artists Database.