Unspoken Scheduled To Join Sanctus Real On Upcoming Promises Tour That Runs February-March 2013
Unspoken's Debut Single Who You Are Reaches Top Ten On AC Charts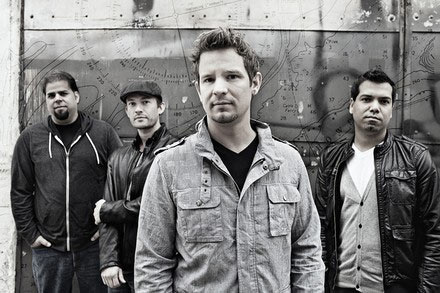 NEWS SOURCE: Bozeman Media
January 29, 2013
Nashville, TN (January 29, 2013) ------ Centricity Music's new breakout band, Unspoken, will join Sanctus Real on their upcoming spring tour that launches Valentine's Day in Alabama and concludes St. Patrick's Day in Nebraska. The first leg of the tour will also feature JJ Heller and Bread of Stone, with Unspoken also joining the second leg of the tour in the fall. Fans will be treated to high-powered performances and original compositions from Unspoken that are featured on the group's debut Centricity Music EP, Get To Me. Tickets for the tour are available at each venue and online at iTickets.com.
"We are so humbled and excited about the opportunity to join Sanctus Real on the road this spring," says Michael Gomez, guitarist for Unspoken. "We have loved this band for a long time, so to have them invite us out on tour is crazy. We look forward to playing our music in front of their fans and, hopefully, make some fans of our own."
Unspoken continues to garner strong radio adds for their debut single, Who You Are, with the song reaching the Top Ten on the CHR chart in December, and in January on the AC Monitored and Indicator charts. Recent radio adds include; WONU/Chicago, IL, The Fish/Nashville, TN, WMHK/ Columbia, SC. The strength of the single led to Unspoken being honored by iTunes as Best of 2012 for Christian & Gospel Best Song, which is remarkable for a new artist. And stellar media reviews have also supported the group with Worship Leader Magazine saying, Unspoken is a band to keep tabs on; with catchy songs like these, they won't slip under the radar, and Power Source Magazine adding, This is a great debut EP from a new act.
Up next for Unspoken will be a radio promotion tour in early February that will take them to Houston, TX, Dallas, TX, Tulsa,OK, Sacrament, CA and more. The group is also heading back into the studio to record a few more songs that will be eventually be added to an upcoming studio album that is scheduled for 2014.
About Unspoken
Unspoken is a 4-member band comprised of lead singer Chad Mattson, bassist Jon Lowry (who are both from Maine), guitarist Mike Gomez (Dominican Republic), and drummer Ariel Munoz (Puerto Rico). The group was initially formed in the Dominican Republic when Mattson met Gomez and when the duo returned to the states the pair hooked up with Lowry, Mattson's childhood friend. Munoz joined the band when he met Unspoken at Nashville talent contest. The group has made great strides as an independent artist, playing with such high-profile acts as Third Day, David Crowder, Casting Crowns, TobyMac, and Pillar. The band's powerful stage performance was the highlight of Momentum 2012 with artists Jamie Grace, Blanca/Group 1 Crew and Dara Maclean tweeting about the impact of the appearance. For continued updates on Unspoken please visit online at www.unspokenmusic.com and online at Twitter @Unspoken.
About Centricity Music
Centricity Music is an independent recording and publishing company based in Bellevue, Washington and Nashville, Tennessee. The company's mission is to enable our artists to create life-changing experiences for the world. Centricity Music's artist roster includes; Aaron Shust, Andrew Peterson, Jaime Jamgochian, Jason Gray, Remedy Drive, Seth Mosley, Sixteen Cities, and Unspoken.
###
For more info on Unspoken visit the JFH Artists Database.