Andrew Peterson Delivers Strong Performance With Grand Ole Opry Debut At The Historic Ryman Auditorium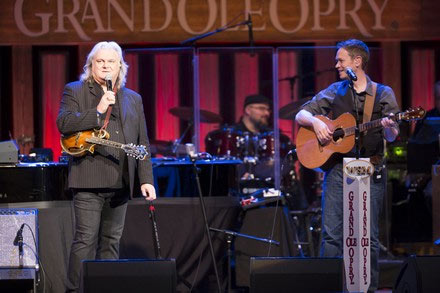 Grand Ole Opry member, Ricky Skaggs, introduces Peterson to the Opry crowd
©2013 Grand Ole Opry - Photo By: Chris Hollo
NEWS SOURCE: Bozeman Media
January 31, 2013
Nashville, TN (January 31, 2013) ----- It was a special night when Andrew Peterson made his debut on the Grand Ole Opry recently and delighted the crowd with two of his songs, "Dancing in the Minefields" and his new single, "You'll Find Your Way." Grand Ole Opry member Ricky Skaggs made Peterson's introduction while remembering his first Opry performance and what it means to stand on the historic Ryman stage. Both of Peterson's performances were met with lengthy applause, while some of the audience jumped to their feet—a rare response for a new artist on the show. One woman in the crowd was overheard to say, "These are the two best songs of the show so far tonight." Peterson was thrilled and honored with the response.
"Fifteen years ago when I first moved to Nashville, I fell in love with the beautiful history of the Grand Ole Opry," explains Peterson. "It's not just a part of what makes this city great, it's also a jewel in the crown of American music. I don't remember the last time I was so nervous walking onto a stage. But Ricky's introduction was so generous, and the audience was so gracious, that by the time we were finished I felt right at home. I'll never forget it."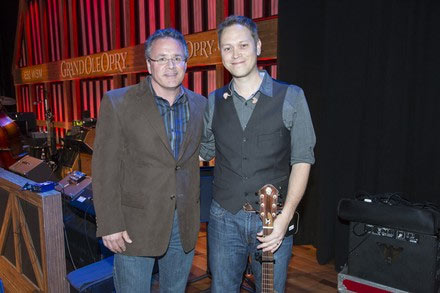 Grand Ole Opry Vice President and General Manager, Pete Fisher, congratulates Peterson after his successful debut performance. ©2013 Grand Ole Opry - Photo By: Chris Hollo
Up next for Peterson is The Storytellers Tour with labelmate Jason Gray that launches February 16th in Illinois. For updates on the tour please visit www.andrew-peterson.com or www.jasongraymusic.com.
For more info on Andrew Peterson visit the JFH Artists Database.