HIP HOP ARTIST ANDY MINEO HOSTS ONLINE AUCTION FOR CUSTOM-MADE SKATEBOARD, FEATURED IN "AYO"" MUSIC VIDEO
All Proceeds Donated to SalemTown Board Co., in Effort to Help Urban Youth in Nashville, Tenn.

Pre-Order For Highly Anticipated Debut Album Heroes For Sale, Available Now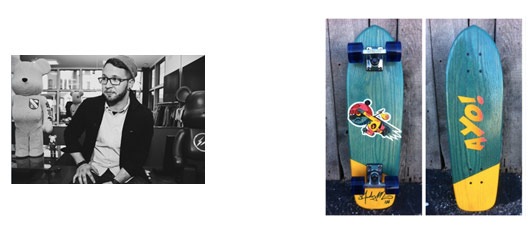 NEWS SOURCE: Rogers & Cowan
March 25, 2013
Los Angeles, Calif. (March 25, 2013) - Breakout hip hop artist and skateboard enthusiast, Andy Mineo, is auctioning off the SalemTown Board Co. custom-made skateboard ($350 retail value) featured in his "AYO!" music video. Starting today, the auction will be open to the public on Ebay until April 4. All proceeds from the auction will be donated to the organization in effort to help the urban youth in Nashville, Tenn.
"I've always admired Andy's style and his heart and when we started considering artists/riders to sponsor he was at the top of the list," says Jacob Henley, Founder of Salemtown Board Co. "His love for skateboarding was just icing on the cake when we made the connection. Andy could've easily kept the board for himself but believes in our mission so much he decided to auction it off, donating all proceeds to Salemtown Board Co."
"I love everything Salemtown Board Co. is about: skateboarding, creating excellent, one-of-a-kind hand crafted boards, and using their earnings to mentor kids in their local neighborhood," Mineo explains. "I enjoy using my platform to point people to great causes, individuals and companies whose vision I believe in. I also think this will be a really cool way to engage the fans and give them an opportunity to own a piece of the art me and Salemtown Board Co. have created."
Additionally, Mineo is preparing for the release of his highly anticipated debut album, Heroes for Sale, which is currently available for pre-order at http://www.merchline.com/reach/ and iTunes ® starting at $10.99. Fans have the opportunity to purchase the album today and receive and instant download of "AYO!" and Mineo's second single "Bitter." The full record will drop in stores nationwide on April 16.
For more information please visit www.reachrecords.com.
###
ABOUT REACH RECORDS
Reach Records and ReachLife Ministries strive to, "bridge the gap between biblical truth and urban context." Founded in 2003, Reach Records is a Christian music record label dedicated to using music as a means of reaching the urban community in a biblically sound way. While Reach Records employs music to reveal biblical truth, ReachLife Ministries aims to empower ministry leaders with this music in order to grow the urban church. For further information and a list of upcoming Reach Records and ReachLife Ministries events, please visit http://reachrecords.com. For more information about ReachLife please visit http://reachlife.org/.