TOBYMAC AND BRITT NICOLE LEAD THE MUSIC FOR WALDEN FAMILY THEATER'S "SPACE WARRIORS" SOUNDTRACK AND MUSIC VIDEO MONTAGE
"Space Warriors" Releases in Theaters April 26th and has its Hallmark Channel Original World Television Premiere on Friday, May 31 at 8/7c, as Part of the Walden Family Theater Series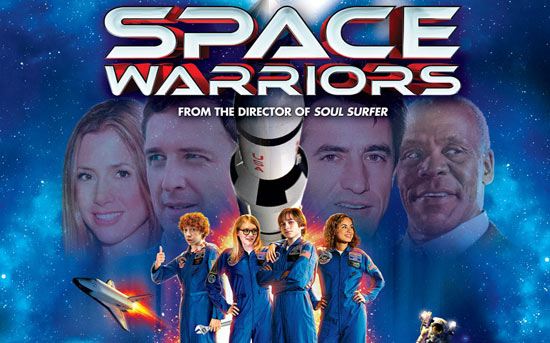 NEWS SOURCE: Rogers & Cowan
April 25, 2013
Los Angeles, Calif. (April 25, 2013) - Tobymac's driving chart topper "Unstoppable" is the featured closing song in Walden Media, ARC Entertainment and Meteor 17's forthcoming full-length movie "Space Warriors" starring Dermot Mulroney, Academy Award winner Mira Sorvino, Josh Lucas, Thomas Horn ("Extremely Loud and Incredibly Close") and Danny Glover. The film is directed by Sean McNamara ("Soul Surfer"), produced by Jason Netter and Executive Produced by Spencer Proffer and Trevor Drinkwater. In addition to its theatrical release on April 26, "Space Warriors" will also make its World Television debut as part of the Walden Family Theater series on Hallmark Channel, Friday, May 31 at 8pm ET/PT and 7pm CT.
Tobymac joins Britt Nicole ("All This Time"), emerging artists Flying Machines ("It Doesn't Matter"), Hudson Moore ("Make it Through") and Fireworks ("We're Still Pioneers") in sonically decorating the film, set at the world-famous U.S. Space & Rocket Center in Huntsville, home of Space Camp ® and Aviation Challenge.®
With 11 million career albums sold to date, Tobymac recently garnered his 6th Grammy Award for Best Contemporary Christian Music Album. The award comes after the album's impressive debut at No. 1 on the Billboard Top 200 and iTunes® overall album charts and following his first American Music Award win.
"This wonderful film should inspire and entertain kids all over the world in the space and science arena," says Tim Hall, USSRC's media strategist and communications director. "The music in this movie is amazing. It punctuates the film and will resonate with our audience to bring even more attention to it. We here at the Space Camp and the U.S. Space & Rocket Center could not be happier to be involved."
"Space Warriors" tells the story of a smart and mischievous teenage boy who dreams of attending Space Camp. He is among six highly skilled teenagers handpicked to be part of a summer space camp competition at the U.S. Space & Rocket Center in Huntsville, Ala. A motley crew with formidable competition, they band in friendship, humor and resourcefulness and ultimately become heroes when danger erupts on the International Space Station and they use their ingenuity to save the day.
In conjunction with the motion picture release, renowned marketing expert, Dennis Rice, CEO of Vision Entertainment who is overseeing the project's marketing campaign, and Executive Producer Proffer, conceived of a fresh music video vehicle to add to the film's promotion. Working closely with the film's editors, Jeff Canavan and Clayton Woodhull, Proffer produced the 3:30 piece that speaks directly to the ethos of Space Camp and the movie.
Featuring footage from the film, punctuated by composer Lawrence Brown's score, the video montage boasts a 3 song visual tapestry of key songs including Flying Machines "It Doesn't Matter" (an original written for the movie), Fireworks' "We're Still Pioneers," and Tobymac's recent hit "Unstoppable."
The "Music from Space Warriors" video will debut at the film's world premiere on April 25 at Space Camp prior to the movie's theatrical release. It will then be syndicated through multiple online outlets, platforms and websites of all the film's partners as well as via YouTube. To access the video, please visit Space Camp's YouTube page at: http://www.youtube.com/watch?v=sVt4UQXmng8.
Walden Family Theater is a series of Friday night movies on Hallmark Channel for families to enjoy together. It is created with partners Walmart, P&G along with ARC Entertainment. "Space Warriors" will be backed by a significant marketing campaign from the companies involved and will premiere on the big screen at Space Camp on April 25, 2013 in Huntsville, Ala. followed by a theatrical run starting April 26 and its televised premiere on Hallmark Channel on May 31, 2013.
About Capitol CMG
Capitol Christian Music Group (CMG) is the market leader in the field of recorded music, distribution and music publishing. Established in 1994 following the acquisition of The Sparrow Corporation, Capitol CMG now operates several divisions including Capitol CMG Label Group (Sparrow Records and ForeFront Records), EMI Gospel, Capitol CMG Distribution and Capitol CMG Publishing led by President and CEO Bill Hearn and a strong executive team of long-time Christian and Gospel music veterans, Capitol CMG employs over 130 people and has created a challenging and rewarding work environment characterized by a commitment to artists and songwriters, one another, their customer and community service.
About Walden Media
Walden Media specializes in entertainment for the whole family, creating movies, books and television series that spark the imagination and delight all generations. Past award-winning films include: "The Chronicles of Narnia" series,
"Journey to the Center of the Earth," "Nim's Island," "Charlotte's Web" and the Sundance Audience Prize Winning documentary "Waiting Superman." Walden Media's most recent theatrical release is the family comedy "Parental Guidance," starring Billy Crystal and Bette Midler, which was the biggest comedy hit of the 2012 holiday season.
Walden Family Theater is Friday's new destination for quality family entertainment, exclusively on Hallmark Channel. Created in partnership by Walmart, P&G, Walden Media and ARC Entertainment, Walden Family Theater represents a shared commitment to provide television audiences with premium content suitable for all ages.
Each original movie in the Walden Family Theater lineup is supplemented by an activity guide featuring specially created recipes, crafts and educational materials that complement the film's storyline. These guides enhance the viewing experience by giving families yet another way to connect over entertainment.
http://www.walden.com
http://www.walden.com/tv-movie/walden-family-theater/
About Meteor 17 & Spencer Proffer
Headquartered in Los Angeles, this convergence and production venture is helmed by innovative media and music producer, Spencer Proffer. M17 is producing and is developing an ambitious slate of projects across music, TV, film, Internet, live event, and other platforms, integrating brand marketing and music as organic components. M17 is a full service organization that actively participates from conception and architecture through all phases of deal making, production, marketing and distribution entities highlighted on www.meteor17.com.
Spencer Proffer is a highly regarded media producer and strategist with a long history of connecting with audiences. His productions have garnered Academy, Golden Globe, Emmy, Grammy and Tony awards and nominations, and as music producer, Spencer has sold millions of gold and platinum records. He has expanded his pedigree by architecting and executing original content for films, brands and distribution companies to get their message across, utilizing music as an organic component.
About Hallmark Channel
Hallmark Channel, owned and operated by Crown Media Holdings, Inc., is a 24-hour basic cable network that provides a diverse slate of high-quality entertainment programming available in high definition (HD) and standard definition (SD) to a national audience of 87 million subscribers. Hallmark Channel is the nation's leading destination for quality family programming with an ambitious slate of original TV movies and specials, as well as some of television's most beloved sitcoms and series, including The Golden Girls, Frasier, and Happy Days. The channel is also home to a range of lifestyle programming, anchored by Home & Family, a daily two-hour live show shot in a fully functional house located on the Universal Studios lot, and Marie, a one-hour talk show hosted by iconic entertainer, Marie Osmond. Hallmark Channel's sibling network, Hallmark Movie Channel, also available in HD and SD, focuses on family-friendly movies with a mix of original films, classic theatrical releases, and presentations from the acclaimed Hallmark Hall of Fame library.
For more information, please visit www.crownmediapress.com
Hallmark Channel on Social Media: Facebook, Twitter (Join the conversation at #HeartofTV), Pinterest, GetGlue, YouTube.
About ARC Entertainment
ARC Entertainment, founded in 2010, is a fast growing, fully integrated production and distribution company providing both physical and digital distribution and sales services entertainment-based products. It provides brand marketing, retail strategy, physical distribution and sales services for consumer products.
As a "special based" distribution company, ARC's relationships with national retailers, coupled with strong sales and marketing expertise, enables them to explore unique programs and business models for its content partners. It develops creative and profitable retail marketing programs by connecting Intellectual Property and Content owners directly with retailers. This enables ARC to truly align content development, investment and distribution with the requirements of retailers and their customers. The Company monetizes Content in multiple revenue streams including; DVD, Blu-ray, Digital, Electronic Sell-Through, Streaming, VOD, PPV, Pay and Free TV.
The Company has unparalleled relationships with major national retailers and a management team with a history of success in the Entertainment and Consumer Products industries. http://www.arc-ent.com.
For more info on Tobymac visit the JFH Artists Database.