LEGENDARY VOCALIST JOHN SCHLITT TAKES TO THE KITCHEN AS KICKSTARTER CAMPAIGN REACHES FINAL HOURS
Grammy And Dove Award-Winning Artist Adds Sugar and Spice to Partners' Incentives For First Christmas Album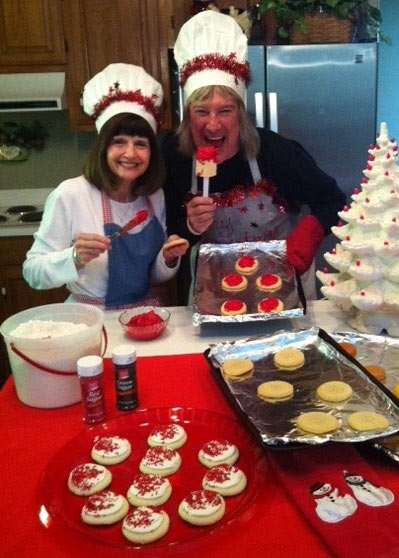 Photo caption: Dorla Schlitt, left, and John Schlitt, right, are already busy in the kitchen baking Dorla's famous Christmas treats for fortunate Kickstarter Crew members! (McCain & Co. Public Relations photo)
NEWS SOURCE: McCain & Co. PR
June 6, 2013
NASHVILLE, Tenn. (June 6, 2013) - Santa's elves have nothing on John Schlitt as the legendary vocalist approaches the final hours of his Kickstarter campaign aimed at raising funds for Schlitt's next music project, an as-yet-untitled Christmas album. Up to his elbows in flour, sugar and butter, the Grammy and Dove Award winner and his wife, Dorla, have already started the Christmas baking that serves as one of the many incentives for financial partners who are supporting Schlitt's Kickstarter goal.
"Thank you so much to our Kickstarter Crew members who have already joined the team!" says Schlitt. "And for all of you who are still curious and want to join the fun-there's still time, and may I thank you in advance!"
Schlitt's holiday Kickstarter campaign officially ends at 2 p.m. E.D.T. Saturday, June 8. More than 360 backers have supported the project financially to-date; the original goal of $35,000 was met May 31, with pledges continuing to rise daily. All contributions over the goal will be used for additional related and necessary expenses, such as packaging and marketing for the new Christmas CD. Schlitt, who has never recorded any Christmas music, neither during his 20-year stint as the lead singer with Petra nor as a solo artist, says he has been feeling "a very strong tug" to make this seasonal record.
The majority of the CD, according to Schlitt, will consist of traditional Christmas songs done "John Schlitt style." He also plans to include several praise and worship songs. "My desire is that it will be a double-whammy type of Christmas album that will be very different-and very special," he says.
Pledges are taken on Schlitt's personal Kickstarter site (kickstarter.com/projects/johnwschlitt/john-schlitt-the-christmas-project) and powered by Amazon, enabling backers' credit cards to be charged via a secure website-but only after the goal is met. If the goal is not met by the Kickstarter deadline, no money is collected from supporters and the project is not funded. Supporters can choose from a variety of incentives, depending on the pledge level, including a cookbook filled with the Schlitt family's favorite holiday recipes, advance downloads of the CD, vintage Petra tour T-shirts, autographed wooden Christmas ornaments hand crafted by Schlitt, the chance to join Schlitt in a Nashville studio for a recording session-and Dorla Schlitt's famous homemade Christmas cookies!
To contribute to Schlitt's Kickstarter campaign, visit kickstarter.com/projects/johnwschlitt/john-schlitt-the-christmas-project. For more information about Schlitt and the new Christmas project, visit johnwschlitt.com.
About John Schlitt:
With more than three decades worth of water under the musical bridge, John Schlitt has enjoyed a stellar career as a solo artist, as the lead singer for Grammy Award-winning Christian band Petra, one of the most successful Christian rock bands of all time, and as the former lead singer for popular '70s mainstream rock band Head East. He has been inducted into the Gospel Music Hall of Fame as the lead singer of Petra during the years when the band won 10 Dove Awards and four Grammy Awards. Schlitt was named the best rock singer in Christian music history by GospelMusicChannel.com. According to the website, Schlitt "remains one of the most distinctive and impactful men to ever stand behind a microphone." Schlitt was also named Male Vocalist of the Year in About.com's 2011 Readers' Poll in a category that included Chris Tomlin, Jeremy Camp, Brandon Heath and Bebo Norman.
Since Schlitt released his fourth solo CD, The Greater Cause, in May 2012, the legendary vocalist's busy schedule has included appearances on The Mike Huckabee Show, 700 Club Interactive and the Faith & Freedom Celebration-the faith-based kick-off to the Republican National Convention, as well as extensive international touring.
For more information on Schlitt, visit johnwschlitt.com or follow him on Twitter (@johnwschlitt) or Facebook (facebook.com/johnwschlitt).
For more info on John Schlitt visit the JFH Artists Database.