HEARTS OF SAINTS SIGNS WITH DAYWIND MUSIC PUBLISHING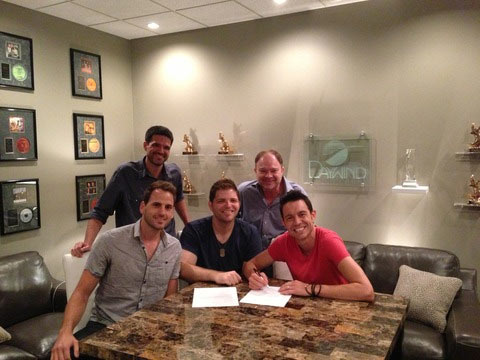 NEWS SOURCE: Savvy Media
June 24, 2013
CAPTION: Pop/rock band Hearts of Saints signs a publishing agreement with Daywind Music Publishing at Daywind's offices in Hendersonville, Tenn. earlier this month. Chad Green, senior creative director at Daywind, comments: "It has been a privilege getting to know the members of Hearts of Saints, their music, and their ministry over the past year and I am very excited to partner with them going forward." Pictured front row are (l-r) Joel Purdy, Jesse Grisham, and Craig Felker of Hearts of Saints, back row are (l-r) Chad Green and Rick Shelton, Daywind's vice president of music publishing.
About Hearts of Saints
Comprising Craig Felker (frontman), Jason Killebrew (drums), Jesse Grisham (guitar) and Joel Purdy (bass), Hearts of Saints solidified its status as one of Christian musicís most exciting new pop/rock acts with the bandís 2010 self-titled debut release. Having shared the stage with everyone from Switchfoot to tobyMac, Skillet and Casting Crowns at music festivals including Rock The Universe, AtlantaFest, UnityFestival, Rock The Light and others, Hearts of Saints continues to be a fan favorite live. The group's sophomore project, For All of Us, released in January of this year and is a two-disc set, combining both rock and worship tracks. The project received high marks from critics like CCM Magazine who gave it four out of four stars, while Worship Leader magazine raved, "[t]his band is the one to watch for in both the CCM and worship scenes."
For more information on Hearts of Saints, please visit the bandís official website at heartsofsaints.com. Also follow the group on Facebook: facebook.com/heartsofsaints or Twitter: @heartsofsaints.
About Daywind Music Publishing
Since its inception in 1995, Daywind Publishing has emerged as a premier source of new songs for the Southern Gospel, Church Print/Choral and CCM markets. DP boasts an exclusive staff of 15 prestigious songwriters including Sam Tinnesz, Ricky Free and Jason Cox. Daywind Publishing has received more than 100 Singing News Song of the Year and Gospel Music Association Doveģ Award nominations including the Doveģ Award for the 2011 Song of the Year. Forty-four Daywind songs have achieved national number one status. BMI awarded DPís Christian Taylor Music, Christian Music Publisher of the Year 2002 and 2004. Daywind Publishing is where songs rise.
For more information: www.DaywindPublishing.com.
# # #
For more info on Hearts of Saints visit the JFH Artists Database.