SANCTUS REAL HITS THE ROAD THIS FALL HEADLINING
"THE RUN TOUR"

Band Will Be Joined By Supporting Acts Citizen Way, The Neverclaim And Everfound, Hitting 30+ Dates Across The U.S.; Tour Sponsored By Compassion International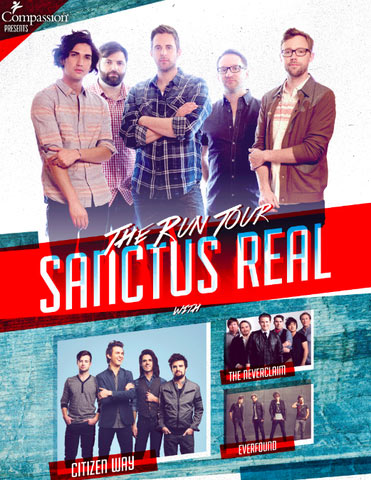 NEWS SOURCE: Merge PR
August 1, 2013
NASHVILLE, TENN - 1 August 2013 - Sparrow Records' award-winning band Sanctus Real has just announced "The Run Tour," with plans to hit 30 cities across the U.S. this fall. The supporting acts joining Santus Real on the road - Citizen Way, The Neverclaim and Everfound - will help kick off the tour on September 19 and go though November. Sponsored by Compassion International, a highlight of the tour markets are listed below and more are to be announced soon. The most updated schedule can be found at
SanctusReal.com
.
"The Run Tour is a chance for us to come together every night and relay our passion for God through the songs we're excited to share from our new album," shares Sanctus Real's co-founder and guitarist Chris Rohman. "We wanted to throw things back to what it felt like when we first started touring and the fact that we've always enjoyed hitting the road with fresh, up and coming bands. We are thrilled that these bands are joining us and I think once our fans see a show. they'll understand our excitement too!"
Sanctus Real released their sixth studio album, the critically-acclaimed album, RUN, on February 5 (Sparrow Records). The project is the follow-up to the band's 2010 GRAMMY® nominated CD, Pieces of A Real Heart, which featured their career-breaking hit "Lead Me." Their current single from Run is "Pray," the follow-up to their hit single "Promises," and continues to stay on the charts and be played on stations across the country. Since forming 16 years ago, Sanctus Real still enjoys collaborating as a band and communicating about life and faith through their music. Lead vocalist Matt Hammit has previously shared, "We've devoted the better part of our lives writing songs that we pray will matter."
Sanctus Real The Run Tour dates:*
9/19 - Independence, OH
9/20 - Toledo, OH
9/21 - Willard, OH
9/22 - Greenville, OH
9/25 - Grand Rapids, MO
9/27 - Springfield, MO
9/28 - Crystal Springs, MS
10/4 - Fredericton, NB
10/5 - Augusta, ME
10/6 - Houghton, NY
10/18 - St. Paul, MN
10/19 - Clear Lake, IA
10/20 - Mt. Vernon, IL
10/23 - Odon, IN
10/24 - Warsaw, IN
10/26 - Jacksonville, NC
10/27 - Arlington, VA
11/16 - La Crosse, WI
11/17 - Waukesha, WI
*More dates to be added and all are subject to change. Please visit SanctusReal.com for the most updated schedule.
About Sanctus Real
Over their stellar 16-year career, Sanctus Real has received critical acclaim as a Christian rock and alternative CCM band. The success of their albums landed Sanctus Real eight No. 1 singles and seven Top 5 radio singles. To date, the band's total digital track sales exceed one million. Sanctus Real earned two GRAMMY-Nominations, including 2009 Best Rock Gospel Album for We Need Each Other and 2010 Best Contemporary/Pop Gospel Album for Pieces of a Real Heart. Since 2004, Sanctus Real has been nominated for eight Dove Awards and won Modern Rock Album of the Year for Fight the Tide in 2005. Sanctus Real was named R&R Magazine's most played CHR radio Christian artist of 2006 and Billboard's No. 4 most played Christian band of 2010. Sanctus Real has toured alongside notable artists such as Tobymac, Casting Crowns, Third Day, MercyMe, Steven Curtis Chapman, and Skillet. For more information please visit SanctusReal.com and Facebook.com/Sanctusrealmusic.
About Citizen Way:
Citizen Way is a true band of brothers. This infectious rock four-piece is comprised of two sets of siblings - Josh and Ben Calhoun and David and Ben Blascoe. The group broke through the music scene last year with their powerful debut single "Should've Been Me," which shot up to the Top 5 on the charts marking it the highest charting debut single from a new artist that was released in 2012. The song is off their highly anticipated debut album, Love is the Evidence which released April 23rd. Included in the release is their infectious follow-up single, "Nothing Ever (Could Separate Us)." Citizen Way continues to make an impact both on and off the air, touring with such acts as multi-award winning group Big Daddy Weave and three-time Dove Award winner Chris August on 'The Redeemed Tour.' For more information on Citizen Way visit citizenwaymusic.com and facebook.com/citizenway.
About The Neverclaim:
Hailing from Portland, Ore., new Essential Records signing The Neverclaim first entered the national music scene after winning a talent contest held by radio network Spirit FM. Its unabashed rock sound combined with a pure collective heart for worship resonated with fans and garnered widespread critical praise. Their songs have been featured on multiple Vineyard compilation projects, while its last independent release was touted by Worship Leader magazine as one of the "Top 15 Worship Releases 2012." The band's self-titled label debut (Sept. 24, 2013), reflects genuine longing for spiritual revival among this and future generations. For more information on The Neverclaim, visit TheNeverclaim.com and www.facebook.com/TheNeverclaim.
About Everfound:
Everfound is a band comprised of four Russian-born brothers who immigrated to the U.S. in the 1990's. Their Word debut album's lead single, "Never Beyond Repair," is currently No. 11 at Hot AC/CHR. These multi-instrumental and classically-trained musicians have played more than 800 shows throughout both the U.S. and Europe and released four albums independently. For further information and for listing of tour dates, please visit everfoundmusic.com and facebook.com/everfound.
###
For more info on Sanctus Real visit the JFH Artists Database.
For more info on Citizen Way visit the JFH Artists Database.
For more info on The Neverclaim visit the JFH Artists Database.
For more info on Everfound visit the JFH Artists Database.