Murray Hill Theatre Celebrates 18 Years With Sent By Ravens Reunion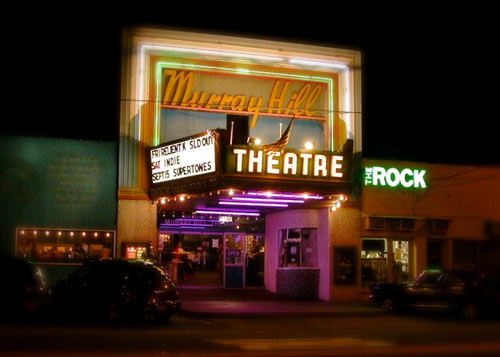 NEWS SOURCE: Murray Hill Theatre
August 5, 2013
For almost 2 decades the Murray Hill Theatre, a non-profit nightclub on the westside of Jacksonville, Florida, has offered a safe place for young adults to enjoy live entertainment without drugs, alcohol, second hand smoke and negative lyrics. Murray Hill Thetare has put on over 2,100 live music events and has continues to its reputation as not only one of the best live music venues in the country and but arguably as the nation's premier Christian rock venue.
This year, Murray Hill Theatre is commemorating its 18th Anniversary with a 2-Day festival style event that will feature The City Harmonic, House Of Heroes & the reunion of Tooth & Nail records' Sent By Ravens. Another dozen local & regional favorites are scheduled to play the event, including Doubting Benefit and Set Apart who also are reuniting just for this celebration. Plus a handfull of acoustic singer/songwriters will be performing on the Café Stage.
The festivities are scheduled for August 16 & 17, 2013 at the Murray Hill Theatre, located at 932 Edgewood Ave South, Jacksonville, Florida, 32205. Doors on August 16th open at 5:00pm and 1:30 am on the 18th. More info available and advanced tickets are available for purchase online on Murray Hill Theatre's website: www.murrayhilltheatre.com.
Murray Hill Theatre is an independent, 501(c)3 non-profit charitable organization that is not affiliated with any church or denomination.
Follow Murray Hill Theatre:
http://www.twitter.com/mhtrocks
http://www.facebook.com/mhtrocks

Murray Hill Theatre is a 501(c) Non-Profit which depends on donations and proceeds from events to continue operations.
###
For more info on The City Harmonic visit the JFH Artists Database.
For more info on House Of Heroes visit the JFH Artists Database.
For more info on Sent By Ravens visit the JFH Artists Database.