David Glenn Signs with Elevate Entertainment for Expanded Distribution of New Album
"Relentless" will be in stores everywhere on September 24th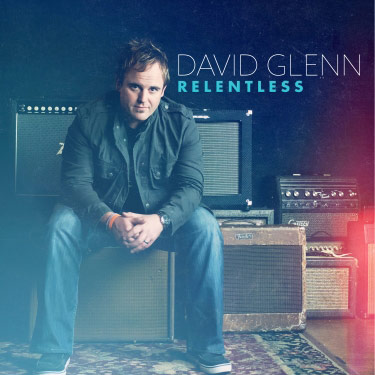 NEWS SOURCE: Nashville PR
August 20, 2013
(NASHVILLE, Tennessee) -- Early buzz for worship artist David Glenn's new album "Relentless" has led to a distribution deal with Nashville-based Elevate Entertainment. Originally released on June 25th to digital outlets via Glenn's own Evident Music label, the album will now be available in stores everywhere on September 24th.
Produced by Scotty Wilbanks (Third Day, Newsong, Decemberadio), Glenn's first nationally marketed release quickly climbed to #23 on the iTunes Christian and Gospel Albums Chart. With national radio and publicity campaigns underway and significant interest from retailers, Elevate Entertainment came forward to help expand availability for the album from coast to coast.
"It took me two minutes into the first track, 'Great King,' and I became a David Glenn fan," said Elevate Entertainment's Marty Drury. "I'm a big Praise & Worship fan, and after hearing the CD and talking to David, I knew I wanted to work with him."
Drawing comparisons to contemporaries like Chris Tomlin and Passion, the worship leader's anthemic choruses such as "Glorify Your Name" and "Bread of Life" are already being sung by countless congregations every Sunday. Glenn spent more than ten years in the Atlanta area building contemporary worship programs for churches from the ground up before moving to Virginia Beach in 2012 where he is on staff at River Oak Church. And while leading worship is his primary passion, the singer/songwriter has been performing praise concerts all across America and abroad, including an opening slot on NewSong's annual Christmas tour.
On September 14th, Glenn will be hosting and performing at Chesapeake Christian Music Festival (Chesapeake, VA), alongside NewSong, Aaron Shust, Love & The Outcome, Royal Taylor and the Mount Unity Choir. Proceeds benefit Nelly's House and the people of Haiti. For tickets and information, visit www.christianmusicfest.org.
For more information, visit David online at www.davidglenn.com.
Track listing:
1-Great King
2-We Are One (Stand United)
3-You Reign
4-Relentless
5-Every Good and Perfect Gift
6-As I Am
7-For You (Shine Brighter)
8-Great King (Acoustic Version)
9-Relentless (Acoustic Version)
10-Relentless (Strings Only)
11-Like The Angels *
12-To Be Love *
13-Turn To You *
14-Like The Angels (Alternate Ending / Choir Mix) *
* Bonus tracks available on CD only
###