THE CITY HARMONIC LAUNCHES "THE HEART TOUR" OCT. 5 FEATURING
SPECIAL GUESTS SHAWN MCDONALD, THE ROYAL ROYAL

HEART Releases Globally Sept. 3, Exclusive Pre-Order Available Now

'Heart' of Album, "A City On A Hill," Gains Radio Airplay

The City Harmonic To Be Featured CBC's The National Aug. 28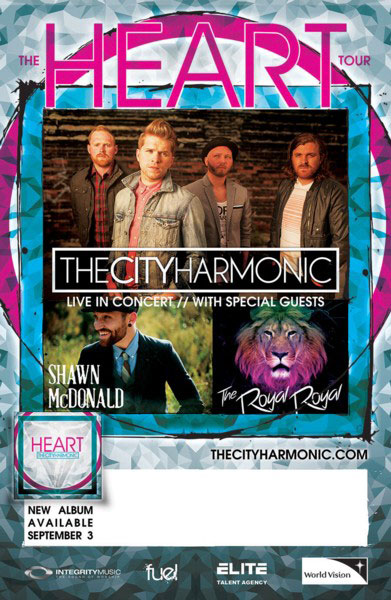 NEWS SOURCE: Hoganson Media
August 27, 2013
Internationally acclaimed band, The City Harmonic, announces the Oct. 5 launch of its fall headline tour featuring special guests Shawn McDonald and The Royal Royal. The tour will follow the Sept. 3 Integrity Music release globally of The City Harmonic's highly anticipated sophomore album, HEART, which is available to pre-order now at http://bit.ly/TCHHeart. Co-produced by the band - vocalist and pianist Elias Dummer, bassist Eric Fusilier, guitarist Aaron Powell and drummer Josh Vanderlaan - and Jared Fox, HEART places Christ at the center while delving into themes of grace, discipleship and being, and becoming, truly human, all the while giving the listener permission to sing out in hope, in hurt.
Taking this communal aesthetic prominent in all of the band's music to the masses, including new songs from HEART and its fan favorites, The City Harmonic launches its "The Heart Tour" Oct. 5 in Denver (Snyder, CO). Presented by World Vision, the tour continues across the Western US through Nov. 3 hitting markets like Phoenix (10/10), San Diego (Carlsbad, CA 10/11), Los Angeles (Pomona, CA 10/12), Portland (10/17), Reno, NV (10/24), San Jose, CA (10/25) and more. Known for its engaging live performances, The City Harmonic's latest concert itinerary, information on tickets and more can be found at www.TheCityHarmonic.com. (Tour dates are also listed below, and a promotional video is online at http://www.youtube.com/watch?v=NcvMvqG06ic&feature=youtu.be.)
As listeners continue to resonate en masse, instinctively joining the chorus while The City Harmonic's music dynamically bounces from sparse intimacy to soaring celebration and back again, Integrity Music offers music fans the opportunity to pre-order HEART. The pre-sale has already launched HEART to the Top 5 on the iTunes® Christian and Gospel chart, where those who pre-order receive an instant download. iTunes is also offering an Exclusive Deluxe version of the album that includes four bonus videos.
The 14 songs on HEART build from where the band left off with its widely acclaimed, JUNO Award-winning I Have A Dream (It Feels Like Home). Reflecting life lived by the band members since their full-length debut, the new album shifts from the dream of what could and should be to the complexities of how to follow the true humanity of Christ's example in the world.
Experiencing that complexity firsthand over the past two years, The City Harmonic members went from working day jobs to recording and touring full time. Aaron had his first child, Josh was married, Elias had his fourth child and Eric was diagnosed with cancer. In a very real sense, life set the context for HEART.
At the core of the new album is the first radio single, "A City On A Hill," which is steeped in the Beatitudes found in Matthew 5 and is receiving national airplay now at KCMS/Seattle, WQME/Indianapolis, WHPZ/South Bend, KCVO/Joplin and many others.
"'A City On A Hill' takes the high concept view of Christ and brings it down to earth in the form of the very things he said in the Sermon on the Mount," says Elias. "It also forms a natural transition into the balance of the album which attempts to marry the ideals with our real lives."
The City Harmonic members are pictured at CBC studios in Toronto, ON Canada. Highlighting another sermon, Martin Luther King, Jr.'s "I Have A Dream" speech, on their full-length debut, I Have A Dream (It Feels Like Home), The City Harmonic members were recently tapped by The National, the flagship nightly news and current affairs program from Canada's public broadcaster, CBC, for its 50th anniversary coverage commemorating Martin Luther King, Jr.'s famous speech. In addition to their interview, the band sang part of their award winning song, "I Have A Dream (It Feels Like Home)."
The resulting feature is scheduled to air on CBC this Wednesday, Aug. 28, and also include interviews with Karl Subban, father of hockey player P.K. Subban, Dr. Michael Real, who was present at the "I Have A Dream" speech, and Wanda Robson, sister of Viola Desmond (who has similar story as Rosa Parks). The story is further slated to run at www.cbc.ca/thenational.
Forming nearly four years ago, The City Harmonic went from anonymity to widespread acclaim, headlining tours across North America and gathering numerous awards along the way. In addition to the Juno Award, the band has a Gospel Music Association (GMA) New Artist of the Year Dove Award nomination, four GMA Canada Covenant Awards and nearly 3,000,000 YouTube channel views. The band's "Manifesto" has sold well over 100,000 copies, marking the only song from a new artist in 2011 to break into the top 10 of the SoundScan Top Current digital singles sales chart.
"The Heart Tour" itinerary follows:
DATE CITY/ST VENUE
Saturday, October 05, 2013 Snyder, CO Snyder Bible Church (no Royal Royal)
Sunday, October 06, 2013 Durango, CO The River Church
Thursday, October 10, 2013 Phoenix, AZ Grand Canyon University
Friday, October 11, 2013 Carlsbad, CA Daybreak Community Church
Saturday, October 12, 2013 Pomona, CA First Baptist Church of Pomona
Sunday, October 13, 2013 Murrieta, CA Calvary Chapel Murrieta
Wednesday, October 16, 2013 Coos Bay, OR Southwestern Oregon Community College
Thursday, October 17, 2013 Portland, OR Promoter looking for venue
Friday, October 18, 2013 Bend, OR Journey Church
Saturday, October 19, 2013 Kennewick, WA Calvary Chapel Tri-Cities
Sunday, October 20, 2013 Everett, WA Historic Everett Theatre
Thursday, October 24, 2013 Reno, NV Promoter looking for venue
Friday, October 25, 2013 San Jose, CA Family Life Christian Center
Saturday, October 26, 2013 Vallejo, CA Six Flags Discovery Kingdom
Sunday, October 27, 2013 Santa Rosa, CA Spring Hills Community Church
Friday, November 01, 2013 Paris, ON Breaside Camp
Saturday, November 02, 2013 Cleveland, OH CSU Wolstein Center (The City Harmonic only)
Sunday, November 03, 2013 Mason, WV Soul Harvest Church
* Tour dates subject to change
All the latest detail on the band and its touring can be found at:
www.thecityharmonic.com
http://www.facebook.com/thecityharmonic
http://www.myspace.com/thecityharmonic
http://www.youtube.com/thecityharmonic
http://twitter.com/thecityharmonic
###
For more info on The City Harmonic visit the JFH Artists Database.