Inaugural Stryper Fan Weekend to be Held October 11-13 in Nashville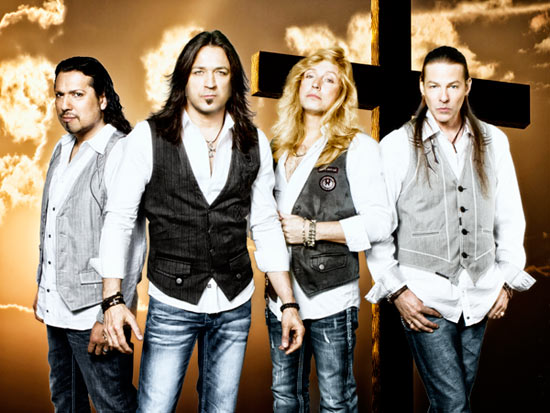 (Photo credit: Mark Weiss / Editing: Mark Weiss & Tina Enos)
(Photo ID left-to-right: Oz Fox, Michael Sweet, Robert Sweet, Tim Gaines)
NEWS SOURCE: Nashville PR
August 29, 2013
(NASHVILLE, Tennessee) -- Legendary rock band Stryper is proud to announce that the first annual Stryper Fan Weekend will be held in Nashville, Tennessee from October 11-13, 2013. The multi-platinum band will host the three-day fan event, which will be packed with exciting events and exclusive access to the band.
Stryper Fan Weekend will include a Stryper concert, an exclusive first listen to the upcoming album, a sneak peek at the band's upcoming music video, Q&A sessions with the band, access to a national radio special taping (with live audience), a Sunday morning worship service with frontman Michael Sweet and much more. To top it off, the entire weekend will be filmed for an upcoming live DVD to be released by Frontiers Records in 2014. Many more surprises will be announced in the coming weeks.
Stryper Fan Weekend is on sale now and space is extremely limited. The cost is $777.00 per person (or $677.00 per person with double occupancy), which includes 2 nights at the host hotel (Franklin Marriott Cool Springs), all meals, admission to all events, ground transportation to and from the airport, an exclusive Stryper gift bag and more. For Nashville-area fans that don't need hotel, a discounted "Event Only" pass is available for $477.00.
The band's all-new studio album, "No More Hell to Pay," will be available in North America on November 5th via Frontiers Records. It is currently available for pre-order at Amazon in standard CD and deluxe digipak featuring exclusive video content.
Multi-platinum rock outfit Stryper is one of the top Christian rock bands of all time. Comprised of the original line-up of Michael Sweet (lead vocals/guitar), Tim Gaines (bass), Robert Sweet (drums) and Oz Fox (guitar), Stryper has been going strong since 1984, and is responsible for such '80s metal classic albums as "Soldiers Under Command," "To Hell with the Devil," "In God We Trust" and such MTV hit singles/videos as "Calling on You," "Free" and "Honestly." After a sabbatical for much of the 1990's, Stryper returned strong in the early 21st century. To date, the band has sold upwards of 10 million records worldwide and is a Dove Award-winner and GRAMMY nominee. Stryper is the first band to have two songs in MTV's Top 10 simultaneously.
For more information or to register for Stryper Fan Weekend, visit http://www.stryper.com/News/fanweekenddetails.html.
###
For more info on Stryper visit the JFH Artists Database.