Bryan Popin: A Redemptive Love Story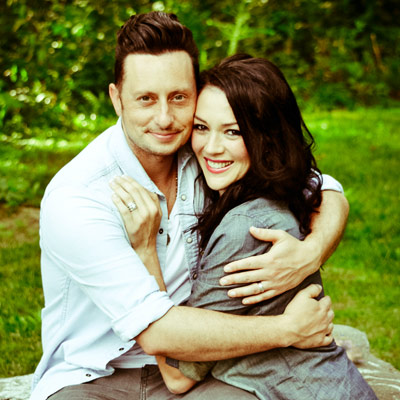 NEWS SOURCE: TKO Marketing
September 3, 2013
Prior to the release of his latest album "You Can Make It," gospel artist Bryan Popin experienced many difficult moments through which he learned to persevere. Perhaps none was more life-changing than when performing at a conference just outside of Fort Wayne, Indiana. After playing his first song, he scanned the audience and his eyes were instantly drawn to a girl named Susan.
"She just glowed," Popin says. "I had to focus on my piano playing for a moment because I was stunned. Watching her worship with her hands lifted to God was about the coolest thing I'd ever seen-at least to a 16-year old boy that was in ministry."
Immediately following service, Popin proclaimed to his mother that this was the girl he was going to marry. Unfortunately, his opportunity to make a lasting first impression didn't go so well.
"Hi, you're beautiful," the shy teenager awkwardly blurted.
"Thank you," she replied. "And you have nice teeth."
Two years later, he returned to that church in Indiana, but Susan wasn't there. Instead, her father informed Popin that she was now living in Los Angeles. Another two years later, Popin visited a different church in the Fort Wayne area and amazingly saw Susan's parents again. This time, the 20-year old musician took decisive action. He asked the father for her phone number.
"I called her the very next morning," Popin says. "In fact for four days, she didn't even call me back. So then I started sending her flowers every day. By the seventh day, she called me and asked me to please stop sending flowers because she wasn't in a good place. It wasn't the reaction I was expecting, but at least I'd gotten Susan to talk to me."
Popin then poured out his heart. He told her how he had missed his opportunity four years earlier and how desperately he wanted the chance to pursue a relationship with her. But then Susan had something important to say.
"Eight months earlier, Susan had gotten married and was now pregnant," Popin explains. "When her husband found out, he closed their joint bank account and left her. She was moving home to Indiana to be back with her family."
Over the next several months, Popin consistently traveled to Indiana to visit Susan. "When I finally got to hold the newly-born Isabella Grace in my arms and look into her big beautiful brown eyes, I fell deeply in love for a second time," Popin says.
About 18 months later, Popin married Susan and they have been together ever since. That relationship would help him navigate the unchartered waters of success he was fast approaching. More importantly, it would give him a divine perspective of God's character. Popin and his wife Susan now have four beautiful children.
"I wasn't planning on getting married and having an immediate family, but I loved Susan and fell in love with Isabella," Popin says. "She has totally changed my world. She showed me what true love was. When you're a dad with a little girl, it's pure, innocent love. But as much as I love my four children and my wife, even more than that, God loves us. It's just mind-boggling."
Popin's album "You Can Make It" will be released October 22 through a partnership with eOne Music and will be the first national debut for this piano player who is dedicated to bringing his listeners closer to the heart of God.