CHRISTIAN MUSIC WINNERS ANNOUNCED
IN UNSIGNED ONLY MUSIC COMPETITION
David Crowder, Aaron Shust, And Jason Gray Are Among 2013 Judges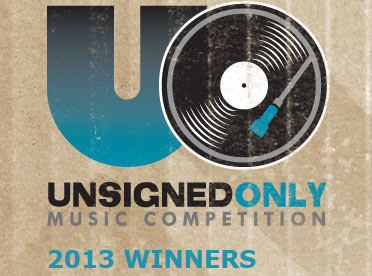 NEWS SOURCE: Unsigned Only
September 10, 2013
Nashville, TN...September 9, 2013 - The winners of the 2013 Unsigned Only Music Competition have been announced. The US-based competition awards over $50,000 in cash and prizes, including a $10,000 cash prize to the overall Grand Prize winner.
Produced by the same team that puts together the prestigious International Songwriting Competition (ISC), Unsigned Only honors artists who are unsigned to a major record label and acts as a benchmark for excellence in the arena of contemporary music.
Garnering First Place in the Christian category is Paul Stephens for the song "Wonder." Born and raised in Los Angeles, CA, Stephens was raised in church where he developed his musical skills. A full-time worship pastor, he has independently released three solo albums. His latest release, Wonder, was produced in Nashville, TN.
Garnering Second Place in the Christian category for their song "Whisper" is the band Skyhawk Drive from Greencastle, PA. An up-and-coming alternative rock group, they have opened up for acts such as Family Force Five, Wavorly, and Relient K. They recently released their newest album, Diverge.
Founders Candace Avery and Jim Morgan said, "With more than 9,000 entries from all over the world, the competition was so competitive, and the judges were impressed by the immense talent displayed. We owe a great thank-you to our dedicated judges who demonstrated their critical knowledge of music in selecting this year's Christian winners, and we are proud to recognize the winners' achievements."
The judging panel consists of iconic recording artists David Crowder; Aaron Shust; Jason Gray; Dustin Lynch; Craig Morgan; Chrissie Hynde (The Pretenders); Iggy Pop; Neon Trees; Cyndi Lauper; Carly Simon; Brandi Carlile; John Oates (Hall & Oates); 3 Doors Down; Of Monsters And Men; Darryl McDaniels (Run D.M.C.); G. Love; Ryan Bingham; and The Mountain Goats. Judges also include a group of influential music journalists and editors from Rolling Stone, Paste Magazine, The Washington Post, and Spin.
Unsigned Only is a fresh and novel approach to other music competitions, offering the Grand Prize winner the opportunity to be mentored by the top echelon of record company professionals. Mentors include presidents and top-level executives from Universal Republic, Capitol, Vagrant, RCA, Bad Boy Entertainment, Disney Music Group, Atlantic, Sony, Big Machine, Word, and G-Unit.
In addition to the above winners, the list of Honorable Mentions in the Christian category is as follows:
Bec Laughton (Brisbane, QLD, Australia) - "Holy Love 2"
Camille Newman (Brooklyn, NY, USA) - "A Place Called Heaven"
Chuck Gibson Band (Lancaster, PA, USA) - "Faithful"
Deanna Geier (Los Angeles, CA, USA) - "I Believe"
Matt & Nicole Crisp (Ottawa, ON, Canada) - "You Hear Us"
Metric Halo (NY, NY, USA) - "Mercy Come"
Restine Jackson (Waldorf, MD, USA) - "I'm Free"
Ryan Bell (Houston, TX, USA) - "Chasing Daylight"
Shuree (Chicago, IL, USA) - "Broken Is Beautiful"
Unsigned Only is sponsored by Sony Creative Software, Disc Makers, David Bean Photography, D'Addario, Mrs. Fields Cookies, The Music Business Registry, Celebrity Access, and CAD Audio.
For more information and to view the list of winners and Honorable Mentions, go to www.unsignedonly.com.
# # #