REBECCA ST. JAMES IS BACK!
RE-EMERGING ON THE NATIONAL SCENE THIS MONTH WITH NEW MOVIE, NEW BOOK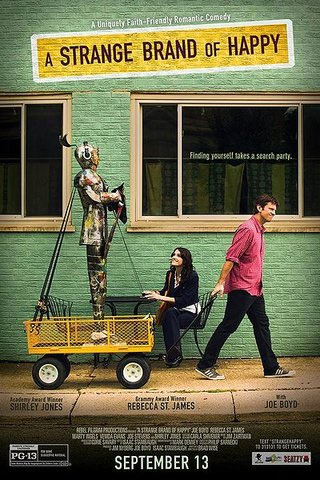 NEWS SOURCE: MorningStar PR
September 16, 2013
(Nashville, Tennessee) -September 16, 2013 -This weekend heralded the opening of the new faith-friendly romantic comedy, "A Strange Brand of Happy," and with it the welcomed return of Rebecca St. James to the national spotlight.
The Grammy and multi-Dove winning Christian artist has a major leading role in the new film along with Academy Award winning veteran actress, Shirley Jones, whose 70's television role as "Mrs. Partridge" on the popular ABC-TV series, "The Partridge Family," endeared her to new generations of fans-including Rebecca.
"I grew up in Australia surrounded by music as one of seven children whose dad was a concert promoter, so when the reruns of "The Partridge Family" reached us from American TV the idea of watching this cool musical mom and five kids who sang and travelled together as a band was an instant hit in my world," recalls Rebecca with a smile. "Shirley Jones is even more wonderful than I anticipated she'd be and it was such a thrill to get to meet her and to be with her in this film."
"A Strange Brand of Happy," written and directed by Brad Wise, finds Rebecca in the role of life coach and potential romantic interest of an aimless young bachelor (played by Joe Boyd) who needs a positive new personal and spiritual re-focus on life. With the help of a zany crew of loveable retirement home residents (that include Shirley Jones and her real life husband Marty Ingels), life takes on a few unexpected detours and definite new meaning for both student and life coach. Does he land Rebecca as his movie love? "You'll have to catch the movie to know," says she.
The film, produced by Rebel Pilgrim Productions, opened on national theater screens on September 13. For theater locations, resource: http://strangehappymovie.com/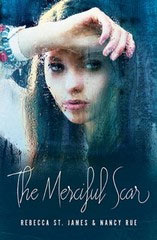 Also new in Rebecca's immediate world this fall is the September release by Thomas Nelson of the novel, The Merciful Scar, a fiction work aimed towards teen and 20's young women. An established major media voice for women's value issues from purity to pro life, Rebecca became personally attached to the importance of this book.
"When I became aware of Nancy Rue's tremendous insights into the challenges young women faced with cutting and self-mutilation issues, I wanted to make sure word got out about The Merciful Scar, notes Rebecca. "More times than you can imagine while doing concerts on the road, I'd have young girls coming up to me in autograph lines in tears and asking for prayer as they showed me arms covered with scars. More than once after praying, I would take my Sharpie and write 'You Are Loved' on their hands-and encourage them to know that's how God felt about them and to remember that message. Through Nancy's powerful gift of bringing reality through fiction, this book is that reminder-and I am committed to getting the message of its relevance broadcast."
In sync with Rebecca's recent set of national radio interviews in support of the book, Thomas Nelson was launched a major fall promotional campaign for The Merciful Scar that highlights print and online promotions, blog tour focus, print and online advertising, social media spotlight positioning, and radio and television bookings. The book is now widely available at both online and national retail bookstore outlets.
###
For more info on Rebecca St. James visit the JFH Artists Database.