CHRISTIAN MUSICIAN SUMMIT NASHVILLE ADDS INDUSTRY LEADERS TO UPCOMING TWO-DAY EVENT
2nd Annual Event Offers Career And Musical Education, Plus World-Class Entertainment at Belmont Church on Music Row October 4-5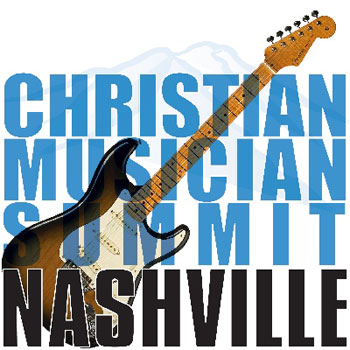 NEWS SOURCE: McCain & Co. PR
September 25, 2013
NASHVILLE, Tenn. (September 25, 2013) - A number of industry leaders have been added to the line-up for the popular Christian Musician Summit, which returns to Nashville for its second year, with a schedule that includes workshops and performances featuring some of the best musicians in the CCM industry. CMS Nashville will be held October 4 and 5 at Belmont Church on Music Row.
Sarah Macintosh will lead a session titled "Silence: Exploring the Role of Women In Ministry." Eric Copeland will lead two sessions for indie artists: "The Importance of Being Amazing" and "Get Busy With Your Music & Ministry."
Benji Cowart has been added as a speaker for the Songwriter Boot Camp and Doak Turner, editor of the Nashville Muse, will speak on "Networking in the Music Business." Lynn McCain, president of McCain & Co. Public Relations, will speak on the importance of publicity to an artist's career.
Jimmy Abegg will lead a session titled "A simple Guitar Clinic" and Roger Zimish will lead "Guitar From A2Z." John Mills will present an audio master class.
Other performers and speakers for the two-day event include Brenton Brown, One Sonic Society (featuring Jason Ingram, Stu G & Paul Mabury), Matt Maher, Phillip LaRue, Sarah Macintosh, Dave Cleveland, Ian Eskelin, Jason Webb, Don Poythress, Tom Lane, Zoro the Drummer, Adam Nitti, Chance Scoggins, Tom Brooks and many others.
"We are excited to return to Nashville," says Bruce Adolph, co-founder of the Christian Music Summit conferences and president of the Adolph Agency, Inc. "Adding Nashville to our list of summit locations has been a joy for us and we know we will continue building on the momentum we started last year."
"This year, we have relocated CMS Nashville to Music Row, which I know will bring an added level of excitement for our participants," says Matt Kees, president of Christian Musician Summit Inc. "Not only will the attendees learn from the industry's top professionals, but they will do so in the heart of where the business of Music City happens."
Registrants will participate in two days of workshops taught by Nashville session musicians. Friday's sessions will be intensives (a.k.a. boot camps) for songwriters, vocals, guitar, bass, drums, keys, audio, and choir. Saturday will feature a variety of workshops on these, and other, topics, including leadership and indie artists.
All CMS Nashville attendees will have access to a concert at 7 p.m. Friday night, headlined by One Sonic Society, with Matt Maher and Sarah Macintosh each opening with an acoustic set.
For more information, including conference rates, and to register, visit christianmusiciansummit.com. To like on Facebook, go to facebook.com/ChristianMusicianSummit or follow on Twitter (@CM_Summit).
About Christian Musician Summit:
The Christian Musician Summit conferences, co-founded by Bruce Adolph and Matt Kees, president of Christian Musician Summit, Inc., are designed to inspire and assist worship leaders, musicians, technicians, pastors, songwriters, and independent artists to sharpen their skills for God's glory. In addition to the workshops and concerts, the CMS conferences also feature exhibits with audio/video and music companies who offer products and services for the Christian church market. These events provide a time for musicians and technicians of all levels to come and learn, network and fellowship.
In addition to CMS Nashville, CMS Northwest is scheduled for November 7-9 at Overlake Christian Church in the Seattle suburb of Redmond, Wash. For more information about Christian Musician Summits, visit christianmusiciansummit.com.
####