Gospel Sensation Earnest Pugh Debuts At #1 On Billboard's Top Gospel Sales Chart With The W.I.N. (Worship In Nassau) Experience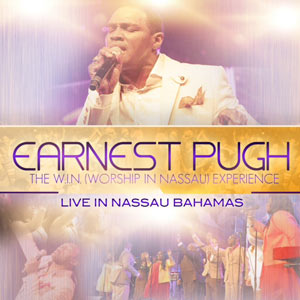 NEWS SOURCE: TKO Marketing
September 25, 2013
HOUSTON (September 25, 2013) -Gospel Sensation EARNEST PUGH's The W.I.N. (WORSHIP IN NASSAU) EXPERIENCE debutes at #1 on Billboard's Top Gospel sales chart this week.
"It's impossible to articulate in words what I am feeling right now," said Pugh."Though it's my 6th CD release, my heart leaps with joy and appreciation today as it did 15 years ago when I released my very first CD! I am blown away by the response, love, and support of the W.I.N. project. I have been blessed with an amazing team such as Grammy Award-Winning Producer Cedric Thompson, and I also salute every soloist that participated. Finally, thanks to the P-Man Admin Staff, Damon Stewart, TKO Marketing & PR, P-Man Management Team, and Central South Distribution (CSD) for all your efforts of marketing, distributing and promoting the W.I.N. project. You all put your hands to the plow and never looked back."
Produced by Thompson, the 12-song CD features Gospel legends including Bishop Rance Allen, Multi-Grammy® Award-Winning Singer Pastor Shirley Caesar, LeJeune Thompson, Vincent Tharpe & Kenosis, Angel Davis, and Michelle Prather. The W.I.N. Experience also includes a full-length DVD and features the top single "I Believe You Most" on which Pugh collaborated and produced with J. Moss and PAJAM. The CD is released through independent label P-Man Music in partnership with Central South Distribution. Recorded live in Nassau, Bahamas at the Atlantis Hotel (Grand Ball Room) the CD commemorates Pugh's "20-15 Celebration," which recognizes 20 years in ministry and 15 years in the music industry. The live recording was a part of the Radio One "One Love Getaway to the Bahamas" this past May.
LINKS
Website: www.EarnestPugh.com
Facebook: https://www.facebook.com/EarnestPugh
"More of You" live video: http://www.youtube.com/watch?v=P-mkW213piY&feature=c4-overview&list=UUBMH8mI0sdtWXd3NvV4yScw
ABOUT EARNEST PUGH:
Music has always been a part of this Memphis native's life. Pugh started singing as a youngster and by his teens, he was in great demand, ultimately sought after by the groundbreaking gospel pioneer, O'landa Draper. At Draper's request, Pugh joined O'landa Draper and Associates. His tenure with the group was short-lived, deciding to join the United States Army instead where he continued to use his musical gifts to edify the body, soul and spirit. Following his departure from military service, Pugh continued to pursue his love for music which opened doors for major appearances on networks such as the Word Network, Trinity Broadcasting Network (TBN) and Black Entertainment Television (BET), including one of BET's top-rated shows, Bobby Jones Gospel and Celebration of Gospel. He's released critically-acclaimed projects, A Worshipper's Perspective, Rain On Us, and Earnestly Yours with new project The W.I.N. (WORSHIP IN NASSAU) EXPERIENCE releasing in September 2013. He's been blessed to perform on countless stages, including in front of the 44th President of the United States, Barack Obama, First Lady Michelle Obama, Malia and Sasha. The graduate of Howard University's School of Divinity wants believers to draw closer to God through his ministry.
For more information on Earnest Pugh, visit www.EarnestPugh.com.