JASON CASTRO JOINS MATTHEW WEST'S "INTO THE LIGHT TOUR" AND RELEASES NEW SINGLE, "STAY THIS WAY," TO RADIO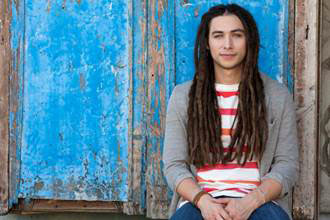 NEWS SOURCE: Warner Music Group / Word Entertainment
September 25, 2013
Nashville, TN - (September 25, 2013) - Internationally-recognized singer/songwriter Jason Castro is gearing up for the release of the third single, "Stay This Way," from his debut Word Entertainment album, Only A Mountain. This week the track ships to radio and will go for adds on October 18th. Castro, after having spent the summer co-headlining a tour with Ryan Cabrera, promoting his appearance in the UP! original movie, "The Perfect Summer," and visiting Colombia, South America, on an "I am Second" expedition, is hitting the road again this week with Matthew West and Sidewalk Prophets for West's "Into the Light Tour." Then, throughout the holiday season, he'll join NewSong for "The Very Merry Christmas Tour" which runs through December 15.
"'Stay This Way' is the most relevant for me lyrically. You know, in the last couple years I think I realized for the first time that I'd grown up accustomed to some things being the way they were, thinking that I can't outrun my last mistake, and I'm just stuck here. I always believed in God, I knew He was good - I thought I was just messed up," said Castro who co-wrote the song with its producers Ben Glover and David Garcia. "I didn't understand what people meant by freedom in Christ. I never felt free - I always felt like a slave to my sin. It wasn't until these last few years that I got into my first real Biblical community. And as I started to share my life with others, and we studied God's word together, I really discovered freedom for the first time. And so that's been a big part of my journey these last few years and one of the highlights."
On Thursday, Matthew West's "Into the Light Tour" featuring Castro and Sidewalk Prophets commences in Carlsbad, NM. The tour runs through November 17th and is scheduled to visit 30 cities throughout the U.S. Immediately following this tour he'll join "The Very Merry Christmas Tour" alongside NewSong, Audio Adrenaline and Love & The Outcome. The tour kicks off in Tyler, TX, on November 30th and hits 15 cities.
Sept. 26 Carlsbad, NM - Walter Gerrell's Performing Arts Center
Sept. 27 Phoenix, AZ - Grand Canyon University
Sept. 28 Saint George, UT - Dixie State College, Cox Auditorium
Sept. 29 Sparks, NV - Sparks Christian Fellowship
Sept. 30 Brentwood, CA - Golden Hills Community Church
Oct. 2 Coos Bay, OR - Marshfield High School Auditorium
Oct. 3 Portland, OR - New Hope Community Church
Oct. 6 Issaquah, WA - Eastridge Church
Oct. 8 Cheyenne, WY - Cheyenne Civic Center
Oct. 9 Bismarck, ND - Shiloh Christian School
Oct. 10 Dickinson, ND - Trinity High School
Oct. 11 Gillette, WY - New Life Wesleyan Church
Oct. 12 Rapid City, SD - Performing Arts Center of Rapid City
Oct. 18 Bel Air, MD - Harford Community College
Oct. 19 Simpsonville, SC - Southside Christian School
Oct. 24 Wausau, WI - Grand Theater Wausau
Oct. 25 Appleton, WI - Appleton Alliance Church
Oct. 26 Bourbonnais, IL - Olivet Nazarene University
Oct. 27 Indianapolis, IN - The Caring Place
Nov. 1 Fort Wayne, IN - First Assembly of God
Nov. 2 Eden Prairie, MN - Grace Church
Nov. 3 Zeeland, MI - Community Reformed Church
Nov. 7 McAlester, OK - Southeast Expo Center
Nov. 8 Lincoln, NE - Lincoln Berean Church
Nov. 9 Tulsa, OK - ORU Mabee Center
Nov. 10 Mount Vernon, IL - Central Christian Church
Nov. 14 Lubbock, TX - City Bank Coliseum
Nov. 15 Andrews, TX - Andrews County Expo
Nov. 16 Decatur, TX - First Baptist Church
Nov. 17 Tyler, TX - Lane's Chapel UMC
Nov. 30 Tyler, TX - The Oil Palace
Dec. 1 Baton Rouge, LA - Baton Rouge River Center
Dec. 2 Russellville, AR - Russellville Performing Arts Center
Dec. 3 Wichita, KS - NewSpring Church
Dec. 5 Anderson, SC - Anderson Sports & Entertainment Center
Dec. 6 Kinston, NC - Kinston Performing Arts Center
Dec. 7 Whiteville, NC - Northwood Assembly
Dec. 8 Johnson City, TN - Freedom Hall Civic Center (PWYC)
Dec. 9 Hight Point, NC - First Wesleyan Church
Dec. 10 Marion, IL - Marion Cultural and Civic Center
Dec. 11 Lancaster, OH - Fairfield Christian Academy
Dec. 13 Pascagoula, MS - First Baptist Church
Dec. 14 Warner Robins, GA - Warner Robins Civic Center
Dec. 15 Woodstock, GA - First Baptist of Woodstock
Dec. 16 Charlotte, NC - Central Church of God
For further information and a complete list of tour dates visit www.jasoncastro.com.
About Jason Castro:
Internationally-renowned recording artist and "American Idol" contestant Jason Castro has topped radio charts in multiple countries, including: Norway, Singapore and The Philippines. His self-titled debut album entered the Billboard Top 200 Album chart at No. 18. Throughout his career, Jason has appeared on television shows such as "TODAY," "The Ellen DeGeneres Show," "Access Hollywood" and "The Bachelor" and has appeared on the pages of Rolling Stone, USA Today and The New York Times. Castro just released his Word Entertainment debut album, Only A Mountain, January 15, 2013.
Facebook: www.facebook.com/jasoncastro
Twitter: www.twitter.com/jasoncastro
YouTube: www.youtube.com/jasoncastroonline
About Word Entertainment:
A leader in the music industry for over 60 years, Word Entertainment, a Warner/Curb company, is a unique, comprehensive entertainment company comprised of multi-faceted artist service departments including publishing, merchandising, booking, and online initiatives. Word Entertainment represents some of the top names and brands in music, including Meredith Andrews, Chris August, Francesca Battistelli, Big Daddy Weave, Jason Castro, Patrick Ryan Clark, Everfound, for KING & COUNTRY, Group 1 Crew, Love & The Outcome, Dara Maclean, NEEDTOBREATHE, Point Of Grace, Sidewalk Prophets, Skillet, Switchfoot and We As Human and is home to 25 Entertainment, Word Distribution (representing Curb Records and Big Idea/VeggieTales among others), Word Music Publications & Church Resources, Word Films, Word Music Publishing and Word Label Group's Word Records, Word Worship and Fervent Records.
###
For more info on Jason Castro visit the JFH Artists Database.