LEGENDARY CHRISTIAN MUSIC ARTISTS JOIN TOGETHER FOR BENEFIT CONCERT
'Sene-Fit'--A Concert of Love for the Seneffs
Set For October 29 At Belmont Church In Nashville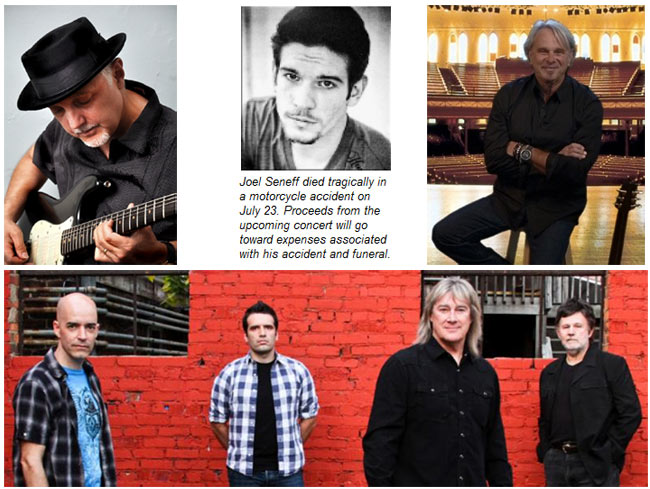 NEWS SOURCE: McCain & Co. PR
October 3, 2013
NASHVILLE, Tenn. (October 3, 2013) - Legendary Christian music artists, including Phil Keaggy, Petra, Kenny Marks, Rick Cua, Michael Omartian and many others, are scheduled to perform at "Sene-fit"--A Concert Of Love For The Seneffs at 7 p.m. C.T. October 29 at Belmont Church on Music Row.
On July 23, Joel Seneff, the 24-year-old son of veteran Christian music industry attorney Greg Seneff and his wife, Cheryl, died in a tragic motorcycle accident. Proceeds from the benefit concert will go toward expenses incurred following Joel's hospital stay and funeral.
"Greg Seneff is a most beloved member of the Christian music community," says Christian radio veteran Brian Mason, the concert's promoter. "He has given selflessly of himself to so many. This opportunity to bless him and his wife is just a small token of how much we love Greg and his family."
'It's an enormous privilege to join with my 'Brothers in Arms'--other singer/songwriters/recording artists in CCM--to perform on this wonderful night of love," says Kenny Marks.
"Our decision to come together for the Seneff Family is no different than the many times artists have given their talents around the world by way of music," continues Marks. "I urge everyone to come attend this significant evening of music and mercy."
The full line-up for the concert to-date includes Phil Keaggy, Petra, Farrell & Farrell, Kenny Marks, Jim Cole, Rick Cua, Morgan Cryar, Rick Elias, Michael Omartian, Gordon Kennedy, Bruce Carroll and Rob Frazier (line-up is subject to change).
Tickets, which go on sale today, are $20 for adults, $10 for children 17 and younger. Tickets will be available at the door or can be purchased online at brianmason.com/sene-fit.htm or by calling TicketQuick at 877-700-3130.
For more info on Phil Keaggy visit the JFH Artists Database.
For more info on Petra visit the JFH Artists Database.