ABC's Good Morning America Lauches "Overcomers" Series with Robin Roberts Featuring Three-time GRAMMY® Nominee
Mandisa's No. 1 Hit "Overcomer"
Mandisa receives Uplift Someone Award from UP TV Network during
44th Annual Dove Awards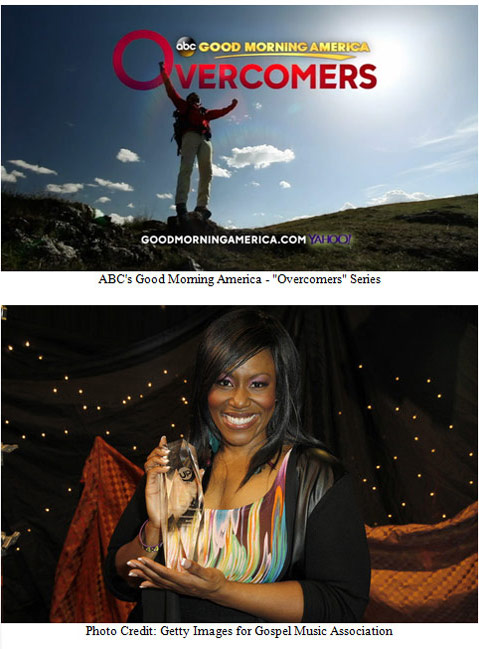 NEWS SOURCE: The M Collective
October 17, 2013
Nashville, Tenn. (October 17, 2013) - Mandisa's No. 1 hit "Overcomer" is once again featured on ABC's Good Morning America (GMA), this time in a new series. In August, the nation's No. 1 morning show had the celebrated singer on to perform the track, and also world premiered the song's music video. This week, GMA launched their "Overcomers" Series with co-host Robin Roberts using both the song and its title in its national TV and web spots. In the series, viewers are asked to share their story with Roberts, telling about a dream they fulfilled with the chance for their story to be shared with America on GMA.
Also this week, the UP Television Network (formerly GMC) surprised Mandisa by honoring her with their "Uplift Someone" award during the live taping of the 44th Annual Dove Awards at Lipscomb University's Allen Arena. The 'Uplift Someone' award embodies the organization's core values of uplifting and inspiring others and recognizes an artist who through the message of their music and acts of positivity and kindness, has encouraged people across the nation and truly changed lives. Presented to Mandisa by GRAMMY® nominee Brandon Heath, the network granted the award to the singer "for her music, message and humanitarian heart, all of which (individually and collectively) have inspired others." The Dove Awards will be televised exclusively on UP, Monday, October 21 at 8:00 PM ET.
Mandisa will appear on KATIE Monday, October 21 and the following day will join The Grand Ole Opry in the fight against breast cancer with Women Rock For The Cure™ for its fifth annual "Opry Goes Pink" show. On Tuesday, Oct. 22, GRAMMY® winner LeAnn Rimes will flip the switch on the Opry's signature barn backdrop, turning it pink for the night as Mandisa and other artists perform in support of breast cancer awareness. The evening is also set to include numerous activities recognizing breast cancer survivors.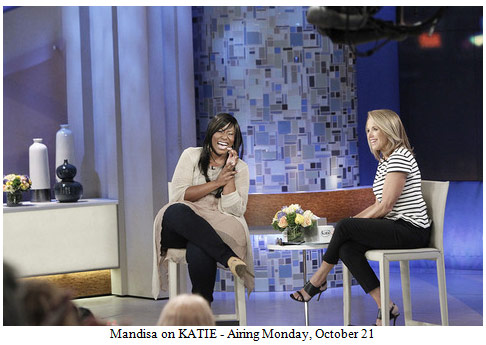 Recently Mandisa had the opportunity to perform the National Anthem during Sunday Night Football on NBC to help the NFL kick off Breast Cancer Awareness month. During her performance, Mandisa was joined by members of the San Francisco 49ers family who are survivors. You can see the performance here.
This fall, Mandisa will once again embark on six-time GRAMMY® winner TobyMac's acclaimed "Hits Deep Tour." Joining Mandisa on the tour, which kicks off Nov. 7, are Brandon Heath, Jamie Grace, Colton Dixon, Chris August and Capital Kings.
About Mandisa:
With over 800,000 records sold, three-time GRAMMY® nominee and Season 5 American Idol finalist Mandisa is a voice of encouragement and truth to people facing life's challenges all around the world. In less than a year, Mandisa performed her three hit singles "Overcomer," "Good Morning,"and "Stronger" on the highest rated morning show, ABC's Good Morning America (GMA). Her performance of "Stronger" welcomed the emotional return of beloved morning host Robin Roberts. The NFL also welcomed Mandisa to perform the national anthem during a Sunday night NFL Network game to kick off Breast Cancer Awareness month where she was joined by members of the 49ers family who are survivors. Her latest album, Overcomer, released August 27 and debuted at No. 1 on the Billboard Christian Albums Chart, with the album's title track holding on to the No. 1 spot for several weeks on the National Christian Audience chart as well as the No. 1 position on the Christian/Gospel Core Digital sales chart for 12 weeks and counting. GMA world premiered the music video, which includes special appearances from former U.S. Congresswoman Gabby Giffords, Captain Mark Kelly, Gold Medalist Scott Hamilton and other special guests. Mandisa boasts a widespread list of media coverage, which include: Good Morning America, KATIE, Fox & Friends, The Today Show, LIVE! With Regis and Kelly, The Doctors, E! News, Extra, Entertainment Tonight, US Magazine, People Magazine, TIME.com and CNN.
For more info on Mandisa visit the JFH Artists Database.