SHOW HOPE CONTINUES TO RAISE AWARENESS FOR NATIONAL ADOPTION AWARENESS MONTH FOLLOWING SUCCESSFUL SOCIAL MEDIA CAMPAIGN
American Figure Skater and Olympic Gold Medalist, Scott Hamilton to Emcee 10 Year Anniversary Fundraising Banquet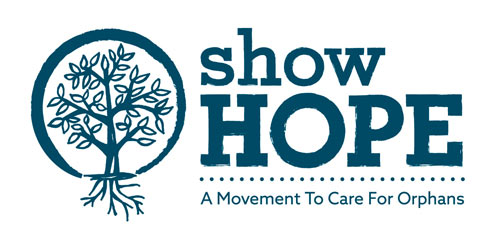 NEWS SOURCE: Rogers & Cowan
October 31, 2013
Los Angeles, Calif. (October 31, 2013)-As National Adoption Awareness Month begins this November, Show Hope™, a nonprofit orphan care ministry founded by GRAMMY® award-winning Steven Curtis Chapman and his wife Mary Beth, will be joining supporters in the coming weeks to continue to raise awareness about the need for finding loving and permanent homes for children all over the world.
Show Hope recently launched the #BrownBag4Hope social media campaign on October 10 in order to gain 10,000 sponsors to help 10,000 orphans over the next 10 years. This revolutionary social media campaign is set to bring awareness to Show Hope's 10-year anniversary 10,000 Campaign. As part of the campaign, Show Hope has been encouraging individuals to take their own lunch to work or school each week, tweet photos of their brown bag lunches by tagging #BrownBag4Hope, and become monthly Show Hope sponsors with the cost savings. On average, supporters could be donating $36 per month by forgoing buying lunch each week. Since their launch, Show Hope has gained 6,000 sponsors and reached more than 7 million people, receiving an overwhelming response from supporters and celebrities including Hilary Scott (Lady Antebellum), Mary Sarah, Michael W. Smith, Josh Devine (One Direction) and Sportscaster Ernie Johnson, among others.
National Adoption Awareness Month will launch with Orphan Sunday on November 3. To commemorate this special day of advocacy and prayer, Show Hope created Orphan Sunday promotional kits for Churches, supporters and families that will allow others to participate in the movement to care for orphans. Demonstrating that anyone can get involved, the kits will include customized brown paper bags, as part of the Brown Bag for Hope initiative.
"It's encouraging to see so many people eager to get involved and learn about the growing needs of orphans," says Executive Director Scott Hasenbalg. "The '10,000 Campaign' and 'Brown Bag for Hope' are just two initiatives that we hope will continue to encourage people to stay involved. Orphan Sunday is a huge day of advocacy where we need people to get out into their communities to keep educating the public about how important it is for all of us to work together to find homes for orphans worldwide. It's these simple consistent efforts that will help thousands of children in need of a home finally find their forever family."
Additionally, Show Hope will be holding their 10 Year Anniversary Fundraising Banquet on November 9 at the brand new Music City Center venue in Nashville, Tenn. The event will feature founders, Steven Curtis and Mary Beth Chapman, and include a reception, dinner and program. American figure skater and Olympic Gold Medalist, Scott Hamilton, who was adopted as an infant, will emcee the special evening.
About Show Hope
Show Hope™, a nonprofit founded in 2003 by Steven Curtis Chapman and his wife Mary Beth, helps to restore the hope of a family to orphans around the world. From the thousands of adoption aid grants given, to providing medical care for more than one thousand orphans with special needs, to consecutive Red Bus Project tours in the spring and fall, to hands-on trips offered to China and Haiti, to conferences and resources the equip foster and adoptive families, to a new artists and advocates program, Show Hope celebrates an incredible ten years in ministry in 2013 and looks ahead to an even brighter future. For more information, visit www.showhope.org.
###
For more info on Steven Curtis Chapman visit the JFH Artists Database.