SECOND ANNUAL K-LOVE CHRISTMAS TOUR'S FIRST DATE DRAWS SELLOUT CROWD IN GREENSBORO, NC
Big Daddy Weave headlining tour featuring for KING & COUNTRY and
Meredith Andrews Also Sells Out in Pittsburgh, Indianapolis, Chicago and Kansas City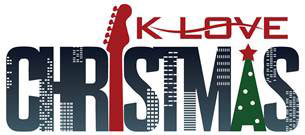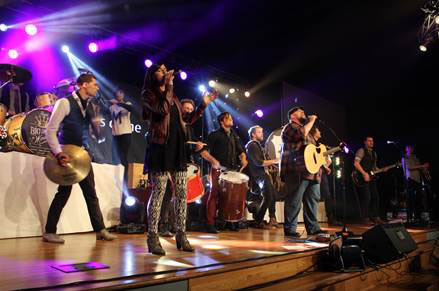 NEWS SOURCE: Warner Music Group / Word Entertainment
December 5, 2013
NASHVILLE, TN - (December 5, 2013) - The second annual K-LOVE Christmas Tour, presented by 25 Entertainment, kicked off with a sold-out crowd Wednesday night in Greensboro, NC. Big Daddy Weave headlining tour featuring for KING & COUNTRY and Meredith Andrews is slated to hit an additional nine cities including four sold-out dates in Pittsburgh, PA; Indianapolis, IN; Chicago, IL, and Kansas City, MO. This past June at the first-ever K-LOVE Fan Awards both Big Daddy Weave and for KING & COUNTRY won two of the top honors with Big Daddy Weave taking home "Song of the Year" for their smash hit "Redeemed" while for KING & COUNTRY were presented the award for "Breakthrough Artist of the Year" by Meredith Andrews. In addition, for KING & COUNTRY's Christmas EP, Into The Silent Night, currently holds the No. 1 spot on iTunes' Christian Album's chart. The relationship between 25 Entertainment and K-LOVE Radio provides the opportunity for radio listeners and fans to experience an inviting evening of Christmas music for the entire family during the holiday season in 10 of K-LOVE's markets.
In addition to music from these critically-acclaimed artists, Feed The Children will be the ministry focal point offering child sponsorships throughout the tour. The non-profit organization will also sponsor a separate event in each city along the tour to feed over 4,000 families in all. On Wednesday, Feed The Children with the help of the tour artists, fed over 380 in need families. Feed The Children is one of the world's largest charities with the mission of providing hope and resources for those without life's essential needs. In the U.S., Feed The Children works with local agencies to distribute food and necessities to over 400,000 families annually.
Upcoming K-LOVE Christmas Tour Dates:
Dec. 5 Virginia Beach, VA - New Life Providence Church
Dec. 6 Pittsburgh, PA - Amplify Church, Pittsburgh East Campus
Dec. 7 Indianapolis, IN - Zionsville Performing Arts Center
Dec. 8 Chicago, IL - Aurora Christian High School
Dec. 11 Lexington, KY - Porter Memorial Baptist Church
Dec. 12 Nashville, TN - Brentwood United Methodist Church
Dec. 13 Memphis, TN - Raleigh Assembly of God
Dec. 14 Kansas City, MO - Cross Points Church
Dec. 15 Evansville, IN - First Christian Church Newburgh
For more information and to purchase tickets please visit www.KLOVEChristmasTour.com.
About Big Daddy Weave:
This year, Big Daddy Weave's monster hit song "Redeemed," which spent 11 weeks at No. 1, took home top honors for "Song of the Year" at the first-ever K-LOVE Fan Awards and received nominations for "Christian Song of the Year" at the 2013 Billboard Music Awards and "Song of the Year" at the 2013 Dove Awards. The single from the band's latest album, Love Come To Life, which also features the group's current single at radio, "The Only Name (Yours Will Be)." The band, comprised of Mike Weaver, Jay Weaver, Jeremy Redmon Joe Shirk and Brian Beihl, formed when the original members were attending the University of Mobile. In 2002 they stepped into the spotlight with the release of their second album, One and Only, which debuted in SoundScan's Christian Top 5 and earned them a nomination for Dove Awards' "New Artist of the Year." In 2010, Big Daddy Weave took home the Dove Award for "Christmas Album of the Year" for their seventh album Christ Is Come. They have also been honored at ASCAP's Christian Music Awards and are one of the 10 most played artists at Christian radio over the past decade. For more information on Big Daddy Weave please visit www.bigdaddyweave.com.
About FOR KING & COUNTRY
for KING & COUNTRY, recently named "New Artist of the Year" at the 44th Annual Dove Awards and "Breakthrough Artist of the Year" at the first annual K-LOVE Fan Awards, released their critically acclaimed debut album, Crave, in 2012. On January 10, they made their late night debut performing their hit song and iTunes' 2012 "Breakthrough Christian & Gospel Song of the Year," "The Proof Of Your Love," on "The Tonight Show with Jay Leno." In 2012, for KING & COUNTRY was named as one of Billboard's 17 acts to watch and were CCM's best-selling new artist. ET's "The Insider" said the duo, "make music that speaks directly to your heart" and have been "gaining popularity in the alt-rock genre." American Songwriter commented that "for KING & COUNTRY may just be Australia's answer to Coldplay." Stay tuned to www.forKINGandCOUNTRY.com for the most current news.
About Meredith Andrews:
With her Word Entertainment's debut release in 2008, Meredith Andrews' insightful songs and engaging voice awarded her recognition as Billboard Magazine's "Most Promising New Artist." In 2011, she picked up two Dove Awards for "Worship Song of the Year" and "Praise and Worship Album of the Year," quickly distinguishing her as one of the preeminent worship leaders and songwriters in the Christian music community. With the success of her debut album and her sophomore release in 2010, As Long As It Takes, she was afforded the opportunity to tour with acclaimed CCM artists Natalie Grant, Brandon Heath, Bebo Norman and Michael W. Smith. Her much-anticipated third studio album, Worth It All, featuring singles "Worth It All," "Strong God" and "Pieces," was released January 22, 2013. A native of Wilson, NC, Meredith began singing in church when she was only six, and by the time she was in high school, she was writing songs and leading worship. For more information on Meredith Andrews please visit www.meredithandrews.com.
About Feed The Children:
Founded in 1979 and headquartered in Oklahoma City, Oklahoma, Feed The Children is one of the largest international charities based in the U.S. With the mission of providing hope and resources for those without life's essentials, Feed The Children is a BBB Wise Giving Alliance accredited charity and uses a comprehensive and integrated program to combat hunger and poverty. Feed The Children addresses four basic needs: food and nutrition, water and sanitation, education and health, and livelihood community development. In addition to helping families and communities around the world achieve lasting self-sufficiency, Feed The Children also responds quickly in times of disaster to provide emergency supplies for those in need.
About K-LOVE:
K-LOVE creates compelling media designed to inspire and encourage people to develop a meaningful relationship with Christ. K-LOVE is listener supported and delivers positive, encouraging contemporary Christian music through its 446 signals across 47 states. For more information visit: www.klove.com.
About 25 Entertainment:
25 Entertainment is the event booking, production and promotion arm of Word Entertainment, a comprehensive Christian entertainment company comprised of multi-faceted artist service departments including recorded music, publishing, distribution, merchandising, Church resources, and online initiatives. Based in Nashville, 25 Entertainment's roster includes some of the world's most-renowned Christian artists including Chris August, Natalie Grant, Phillips, Craig & Dean, Point of Grace, and Sidewalk Prophets. The company also proudly represents Girls of Grace, a nationwide conference for 6th - 12th grade girls, focusing on common age-related issues with positive Christian messages.
About Word Entertainment:
A leader in the music industry for over 60 years, Word Entertainment, a Warner/Curb company, is a unique, comprehensive entertainment company comprised of multi-faceted artist service departments including publishing, merchandising, booking, and online initiatives. Word Entertainment represents some of the top names and brands in music, including Meredith Andrews, Chris August, Francesca Battistelli, Big Daddy Weave, Jason Castro, Patrick Ryan Clark, Everfound, for KING & COUNTRY, Group 1 Crew, Love & The Outcome, Dara Maclean, NEEDTOBREATHE, Point Of Grace, Sidewalk Prophets, Skillet, Switchfoot and We As Human and is home to 25 Entertainment, Word Distribution (representing Curb Records and Big Idea/VeggieTales among others), Word Music Publications & Church Resources, Word Films, Word Music Publishing and Word Label Group's Word Records, Word Worship and Fervent Records.
###
For more info on Big Daddy Weave visit the JFH Artists Database.
For more info on Meredith Andrews visit the JFH Artists Database.
For more info on for KING and COUNTRY visit the JFH Artists Database.