COMPASSION INTERNATIONAL PRESENTS
THE HANDS OF GOD TOUR FEATURING
FRANCESCA BATTISTELLI WITH SANCTUS REAL
Launching Feb. 6, Spring Tour Also Features Special Guests
All Things New and Jon Bauer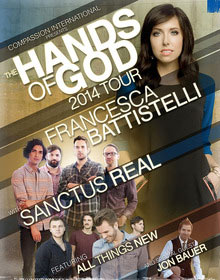 NEWS SOURCE: Southside Entertainment
January 29, 2014
NASHVILLE, TN - January 29, 2014 - GRAMMY®-nominated and Dove Award winning singer-songwriter Francesca Battistelli will headline The Hands of God Tour in 15 cities this spring, beginning February 6 in Fayetteville, Arkansas. Joining Battistelli will be GRAMMY®-nominated band Sanctus Real and special guests All Things New and Jon Bauer. Tickets are on sale now, and all show details are available at HandsOfGodTour.com.
"Hands of God" is the title of a newly-penned track on Battistelli's forthcoming studio album, If We're Honest (Fervent Records), releasing April 22, 2014. Sanctus Real lead singer Matt Hammitt sings with Battistelli on the recording, which they co-wrote together. If We're Honest, produced by Battistelli's longtime collaborator Ian Eskelin, also includes her current radio single, "Write Your Story." Along with previewing new music from her upcoming studio project, Battistelli will perform many of her hits found on her record-breaking debut, My Paper Heart and 2011's bestselling follow-up, Hundred More Years.
The Hands of God Tour is presented by Compassion International (www.compassion.com), the world's leading authority in child sponsorship. Compassion revolutionized the fight against global poverty by equipping the Church to develop children out of poverty to become responsible and fulfilled Christian adults. Founded in 1952, Compassion now partners with more than 6,000 Christian churches in 26 countries to release more than 1.4 million babies, children and students from poverty.
FRANCESCA BATTISTELLI - THE HANDS OF GOD TOUR - SPRING 2014
*Dates, markets and venues subject to change without notice.

February
February 6 - Fayetteville, AR | Christian Life Cathedral
February 7 - Decatur, TX | Victory Family Church
February 8 - Metairie, LA | Victory Fellowship
February 14 - Syracuse, NY | CNY Crossroads Inspiration Hall
February 15 - Perry Hall, MD | Perry Hall Family Worship Center
February 16 - Greencastle, PA | Greencastle Antrim High School
February 27 - Monroe, MI | Stewart Road Ministries Center
February 28 - Campbellsville, KY | Living Grace Church
March
March 1 - Shelbyville, Kentucky | Cornerstone Christian Academy
March 2 - Attica, IN | Attica High School Auditorium
March 6 - La Vista, NE | Beautiful Savior Lutheran Church
March 7 - Castle Rock, CO | The Rock Church
March 8 - Montrose, CO| Montrose Pavilion
March 9 - Artesia, NM | Artesia High School Auditorium
March 14 - Cordele, GA | Crisp County Auditorium
About Francesca Battistelli
Since her debut in 2008, Francesca Battistelli has earned a GRAMMY nomination (Best Gospel Performance), six Dove Awards including 2011 "Artist of the Year," and 22 Dove Award nominations. Both her debut album, My Paper Heart (certified gold in 2012), and her 2011 sophomore release, Hundred More Years, took the No. 1 spot on Billboard's Christian Album chart. With over 978,000 in album sales to date and over 1.8 million single downloads, she is the best-selling new artist in the genre in the past decade. Her music has also been featured on TriStar Picture's "Soul Surfer," Columbia Picture's "Julie and Julia," TLC's "Jon & Kate Plus 8," ABC's "Extreme Makeover: Home Edition," NBC's "The Biggest Loser," Fox's "So You Think You Can Dance," and several other television and movie outlets. In addition, this past fall she was featured on over 3 million Diet Pepsi cans throughout the U.S. For more info, visit www.francescamusic.com.
About Sanctus Real
Over their stellar 16-year career, Sanctus Real has received critical acclaim as a Christian rock and alternative CCM band. The success of their albums landed Sanctus Real eight No. 1 singles and seven Top 5 radio singles. To date, the band's total digital track sales exceed 1 million. Sanctus Real earned two GRAMMY nominations, including 2009 Best Rock Gospel Album for We Need Each Other and 2010 Best Contemporary/Pop Gospel Album for Pieces of a Real Heart. Since 2004, Sanctus Real has been nominated for eight Dove Awards and won Modern Rock Album of the Year for Fight the Tide in 2005. Sanctus Real was named R&R Magazine's most played CHR radio Christian artist of 2006 and Billboard's No. 4 most played Christian band of 2010. Sanctus Real has toured alongside notable artists such as TobyMac, Casting Crowns, Third Day, MercyMe, Steven Curtis Chapman and Skillet. For more information, please visit www.sanctusreal.com and www.facebook.com/sanctusrealmusic.
About All Things New
Hailing from Deltona, Florida, All Things New is made of Garrett Hornbuckle (vocals), Jeff Stein (guitars), Luke Wycuff (drums), and Josh Schou (bass/guitars). On the surface, All Things New could be seen as a group of four longtime friends living out their dream and playing music across the country, but dig a little deeper and you'll find godly men who know all too much about broken homes, broken hearts, and broken faith. Although the members of this worshipful, contemporary, and often folksy Florida quartet could talk about their childhood like it was yesterday, the songs they write and sing on their self-titled debut album already contain the clarity of a hard-won life lesson: things break apart in this world, but God restores them and makes all things new. For more info, visit www.allthingsnewband.com.
About Jon Bauer
Worship artist Jon Bauer has released five independent projects, which have sold more than 40,000 cumulative copies and generated 12 Canadian radio hits, including a No. 1 single and six Top 5 singles. He has toured with artists including Michael W. Smith and Newsboys and continues to play 175+ dates annually. In 2012 alone, he performed more than 200 shows in five countries. Boasting a tally of 20 Covenant Award nominations from 2005-2011, with three total wins for Male Vocalist of the Year (2008), Children's Album of the Year (2009) and Children's Song of the Year (2011), Bauer recently garnered his first Juno Award nomination in the category of Contemporary Christian Album of the Year for Forevermore. His television appearances include "The Harvest Show," Daystar Television Network, "100 Huntley Street," The Miracle Channel, "Living Truth," and TCT Network. He is Canada's top Compassion Canada artist and has helped the international outreach organization see more than 3,000 children sponsored in the last six months alone. For more info, visit www.jonbauermusic.com.
# # #
For more info on Francesca Battistelli visit the JFH Artists Database.
For more info on Sanctus Real visit the JFH Artists Database.
For more info on All Things New visit the JFH Artists Database.