Jonny Diaz to Release Highly-Anticipated New Project April 8th
Let It Fly Marks Debut Release for Centricity Music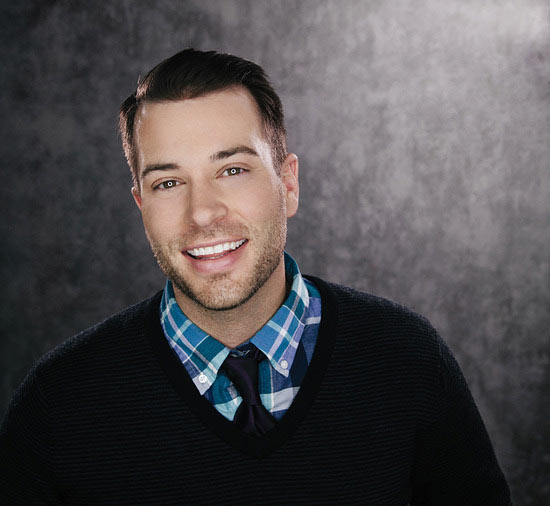 NEWS SOURCE: Bozeman Media
February 28, 2014
Nashville, TN (February 28, 2014) ----- Singer/Songwriter Jonny Diaz will release his debut project for Centricity Music April 8th, Let It Fly. The 11-song EP was produced by Jeff Pardo (Mandisa, Salvador) and Brent Milligan (Steven Curtis Chapman, David Crowder Band), and features original new music that was written or co-written by Diaz. This is the first pairing of Diaz with the famed producers and the collaboration offers some new sounds and insights from Diaz, who is a critically acclaimed talent.
"Every track on this album sounds different than the one before it, which I love!," says Diaz. "When a CD uses the same instruments, players, and producer on every song it's easy to lose the battle to monotony. My goal with Let It Fly was to take every listener on a lyrical and musical journey and I think we accomplished that."
With Let It Fly, Diaz displays more confidence as a singer/songwriter and drives home the message of trusting God and being used more effectively through Him. Two songs on the new project, "Use Me Too," and "Live Like He's Alive," drive home the EP's anthem, while "Like Your Love," and "Thank God I Got Her," display more of a country side to the Christian artist, with the first song even featuring banjo and mandolin. However, this is definitely a pop album overall that is reflected in the catchy song, "Upside Down," that chronicles paradoxes of the Christian faith.
"Thank God I Got Her" is the first single from the project and is currently going for adds at Christian radio. Diaz is currently on a promo tour through several key radio markets that include; KLTY/Dallas, TX; KSBJ/Houston, TX; KXOJ, Tulsa, OK; Spirit FM/Tampa, FL; Christian FM, Vero Beach, FL and WPOZ-FM/Orlando, FL.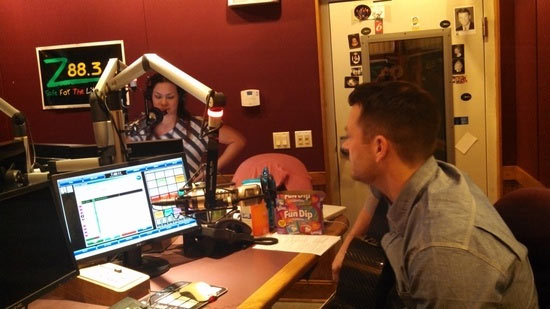 Diaz playing live on-air at WPOZ-FM with air personality Tyler McKenzie,
Morning Show co-host
About Jonny Diaz
Jonny Diaz signed with Centricity in October 2013 and will release his first project for the label April 8, 2014. He began his music career by leading worship for a youth group in Lakeland, FL, and released his first independent project in 2003. Two more independent albums followed before Diaz signed with INO Records in 2008 and released his first major label national debut, More Beautiful You in 2009. The title track reached No. 1 on Billboard's AC Indicator chart, No. 2 on Hot Christian Songs chart and lead to strong reviews that included Christian Manifesto describing Diaz's music as "stellar acoustic pop." Another INO album followed, Jonny Diaz, which led to three more singles before Diaz departed from the label. An active touring artist, Diaz has shared the stage with such notable Christian acts as Building 429, Matthew West, Steven Curtis Chapman, MercyMe and Bebo Norman. For more information on Diaz please visit online at www.jonnydiaz.com or on Twitter at @jonnydiaz.
About Centricity Music
Centricity was founded in 2005 with a commitment to artist development and stylistic diversity. Based in Franklin TN, artists include; Aaron Shust, Andrew Peterson, Carrollton, Jason Gray, Lauren Daigle, Lindsay McCaul and Unspoken. The company's mission is to enable their artists to create life-changing experiences for the world. Providing label, management and publishing services, Centricity is a family owned organization and they like it that way.
Let It Fly track listing:
1. Use Me Too
2. Like Your Love
3. Thank God I Got Her
4. Whole World
5. Live Like He's Alive
6. Scars
7. Upside Down
8. Starts With Love
9. You Just Gotta Believe
10. Hello L.O.V.E
11. Asleep In The Hay
- ### -
For more info on Jonny Diaz visit the JFH Artists Database.