KINGS KALEIDOSCOPE RELEASES "FIX MY EYES" MUSIC VIDEO FROM UPCOMING LIVE EP 'LIVE IN COLOR'
'Live in Color' out March 18 on BadChristian Music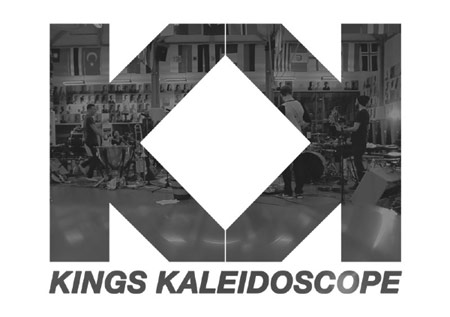 NEWS SOURCE: Fresno Media
March 14, 2014
SEATTLE, WA - The Seattle, Wash. 10-musician collective, Kings Kaleidoscope, has released a live music video for the new track, "Fix My Eyes," on YouTube at: http://youtu.be/o6lLYpIUOmY. "Fix My Eyes" appears on the band's upcoming live EP, 'Live in Color,' which is due out March 18 on Emery's BadChristian Music.
"This EP is the best thing I've heard from Kings Kaleidoscope," said Matt Carter, Emery guitarist and BadChristian co-founder. "They are a band you have to experience live, and this EP and video are the next best thing.
"In Emery, we have always fought in the battle between Christian and secular audiences, trying to authentically be who we are and challenge people's cultural norms. Kings Kaleidoscope is going to do the same thing. That is why they belong on BadChristian, and we are stoked about it."
Added Toby Morrell, Emery guitarist/vocalist and BadChristian co-founder, "Kings Kaleidoscope is going to usher in a new era for worship music that goes beyond the congregational Sunday morning setting, yet evokes even more participation and engagement."
To celebrate the partnership and BadChristian's first release, Kings Kaleidoscope will unveil a total of six live music videos leading up to the release of 'Live in Color,' which will be available for free for one week after the March 18 release. Three additional music videos, "Defender": http://youtu.be/ETswsebezcs, "Higher Throne": http://youtu.be/Bj1ZtBKfB_A and "Felix Culpa": http://youtu.be/1nmFovPbZBk, are currently streaming on YouTube.
Live in Color track listing:
1) Felix Culpa
2) Defender
3) Seek the Kingdom
4) Fix My Eyes
5) Be Thou My Vision
6) Higher Throne
Featuring sections of strings, horns and two drum sets, Kings Kaleidoscope was born at Mars Hill Church in Seattle where the band led worship for four years. With this inventive setup, the band's self-described "designed chaos" sound could just as believably pull off a set at Coachella as it could a Sunday service playing all hymns. The band is best known for its ability to creatively re-arrange classic hymns, pushing the boundaries of modern worship music.
"We love Mars Hill and we're thankful for the time we got to be a part of the church," said Kings Kaleidoscope frontman and bandleader, Chad Gardner. "We now have the opportunity to do something different - something that extends beyond the boundaries of Sunday mornings - and create music for a larger audience. We want to create the best gospel-centered, Jesus-focused music on the planet. We are not a genre, we are Kings Kaleidoscope."
BadChristian was formed in 2013 by Matt Carter, Toby Morrell and Joey Svendsen. Carter and Morrell are worship leaders and founders of Emery, a successful touring rock band that has sold over 500,000 records and toured in 49 states.
The multi-dimensional, BADCHRISTIAN.com, sees over 100,000 unique monthly visitors with more than 200,000 page views, features a blog with over 10,000 subscribers, a podcast that debuted at 15 on the iTunes top charts and a record label.
Stay tuned for more information on Kings Kaleidoscope and BadChristian.
-###-
Kings Kaleidoscope is...
Chad Gardner - vocals, guitar, keys
Andrew Nyte - drums
John Platter - drums, percussion, bells
Zack Walkingstick - bass
Nadia Ifland - keys, violin, vocals
Lindsay Gardner - cello, keys, vocals
Julianne Smith - violin, accordion
Zawadi Morrow - piano, vocals, flute, violin
Blake Strickland - trombone
Jared Buck - guitar
Kings Kaleidoscope online...
http://kingsklive.com/
https://twitter.com/kingsKmusic
https://www.facebook.com/kingskaleidoscope
http://instagram.com/kingskaleidoscope
BadChristian online...
http://badchristian.com/
https://twitter.com/xbadchristianx
https://www.facebook.com/badchristians
http://instagram.com/xbadchristianx
http://www.youtube.com/channel/UC8M83JJGpU5x8lUwae7yZow?feature=watch

- ### -
For more info on Kings Kaleidoscope visit the JFH Artists Database.