Early Bird Pricing for Pure Worship Institute Ends March 31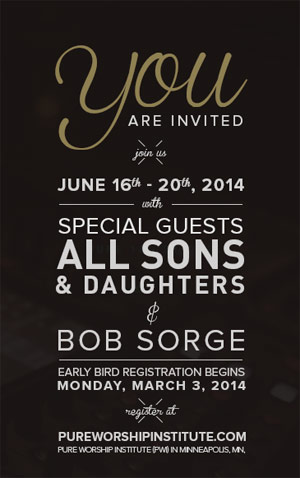 NEWS SOURCE: Pure Worship Institute
March 28, 2014
Presented by North Central University, the Pure Worship Institute is a refreshing worship conference designed to encourage, equip, and empower singers and musicians to honor God with their songs and their lives. Pure Worship Institute is held June 16 - 20, 2014 in Minneapolis, MN.
Each year, PWI is honored to host many wonderfully anointed and gifted worship leaders and speakers – all who love Jesus and who are committed to serving the body of Christ! This year is no exception. PWI have great anticipation over all 25+ special guests including internationally known speaker and author, Bob Sorge, and richly anointed worship artists, All Sons and Daughters! Some of the other amazing guests include Lou Santiago Jr., Jonathan Lee, Larry Bach, Rebecca Norberg, Jeff Deyo, Mark Heimermann, Ben Gowell, and many more.
"The chance to work so closely with professionals not only humbled me, but taught me so much about the ways I can improve." - PWI 2012 ATTENDEE / EMPOWERED AND GRATEFUL
"Pure Worship Institute totally changed how I approach leading worship! Everything I was taught is very useful with the worship bands I lead. Can't wait for next year!" - JAKE EPLEY
For all the details, visit http://www.pureworshipinstitute.com/
###
For more info on All Sons and Daughters visit the JFH Artists Database.
For more info on Jeff Deyo visit the JFH Artists Database.