HAWK NELSON HONORED WITH SESAC AWARD FOR "WORDS"
NEW RADIO SINGLE "A MILLION MILES AWAY" GOES FOR ADDS TODAY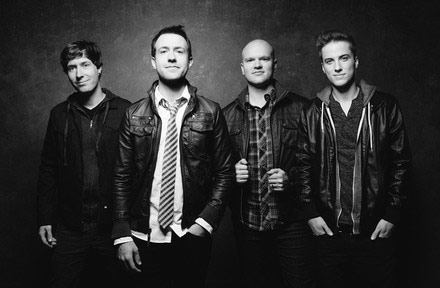 NEWS SOURCE: Merge PR
March 28, 2014
NASHVILLE, TENN. -March 28, 2014 -Hawk Nelson continues to impact fans with their 2013 released album Made (Fair Trade Services). Recently, the band was honored with a SESAC award for their No. 1 song "Words," a Billboard's Christian Hot AC/CHR Top 10 single for 22 weeks. Today, Hawk Nelson is releasing their newest single from Made, "A Million Miles Away" to radio.
"'A Million Miles Away' is more than just a fun pop song that we enjoy playing live," shares front man Jon Steingard. "It's all about the freedom we find in salvation. So much about salvation is leaving the past, leaving who you were, and entering into a new way of life walking with Jesus. When we accept Jesus into our hearts, we are freed from our past, but sometimes it doesn't feel that way. Sometimes it feels like we're dragging all that guilt and shame along with us. This song is all about accepting that it's in the past, and watching all that old stuff fade into the distance."
Fans can hear the story behind the song with this video as well as the lyric video here.
Last year, Hawk Nelson released Made to praise as it debuted at No. 2 on the iTunes Christian & Gospel chart as well as in the Top 100 overall albums. This album featured the new Hawk Nelson front man with longtime band guitarist Jon Steingard transitioning into the role. The band has been introducing the new line-up and songs including their radio singles "Words," "Faithful," and the new radio single "A Million Miles Away" over the last year. Hawk has been part of the successful two legs of the Building 429 "We Won't Be Shaken" tour that will continue through May 10. This summer Hawk Nelson will be performing at major festivals such as Creation East and West, Joyful Noise, Ichthus, Lifest, Unity Festival, Lifelight and Uprise 2014.
ABOUT HAWK NELSON:
This powerhouse, pop rock band has won the hearts of thousands since its debut release in 2004. Hawk Nelson has released six studio projects (Letters to the President, Smile It's the End of the World, Hawk Nelson is My Friend, Live Life Loud, Crazy Love, and Made). Hawk Nelson has been awarded two Canadian GMA awards, multiple GMA Dove Award nominations as well as a JUNO nomination. The band's music has been featured on NBC, MTV, WB, WGN, KTLA, Nickelodeon and the NFL Network. Their music has been used with special promotions for NFL, Nike, JCPenny's, Olympics, NHL and Michelle Obama's "Big Day Out" 2011 campaign. Hawk Nelson is Jonathan Steingard (vocals, guitar), Daniel Biro (bass), Justin Benner (drums) and Micah Kuiper (guitar).
###
For more info on Hawk Nelson visit the JFH Artists Database.