CCM Legends Phil Keaggy and Randy Stonehill Pair for Historic "LIVE from Orlando" HD Concert Webcast
Tickets Go On Sale Today for Rare Worldwide Webcast Experience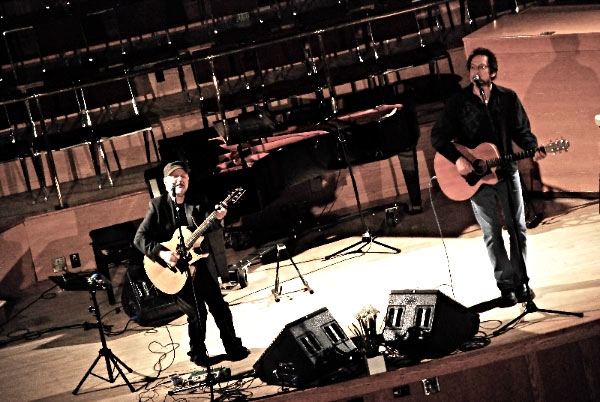 NEWS SOURCE: Providence PR
May 7, 2014
ORLANDO, Fla. (May 7, 2014) - "Keaggy-Stonehill LIVE from Orlando" celebrates the historic pairing of legendary Jesus Music pioneers Randy Stonehill and Phil Keaggy in an unique concert/webcast experience made available worldwide for fans. The concert will be webcast live on Saturday, June 7th, 2014 at 7:30 EST from Faith Christian University in Orlando, Florida and accessed by iticket holders only.
Grammy award nominated Keaggy has won seven Dove Awards in his prolific career and named one of the top fingerstyle guitarist by Guitar Player Magazine. Stonehill is known for his comedic wit, and superb songwriting, as well as being one of the "fathers of Christian music."
Tickets for the webcast will go on sale today, May 7 for $6.50 and are available at http://goo.gl/7nm91H.
The concert will be webcast in HD audio and video, with three cameras capturing closeups, every expression and lick from the guitars, in state of the art quality technology.
"It's a very big first, Keaggy and Stonehill, two of the top names ever, as the pioneers of Christian music, featured in probably the first ever worldwide paid ticketed webcast concert event in the Christian market", says James Burkhardt of SnT Radio, who is the producer of "Keaggy and Stonehill LIVE from Orlando. This is done all of the time in the secular market, but the first that I know of in the Christian market."
The concert will be preceded by a free "Green Room" Interview with Randy Stonehill and Phil Keaggy at 7:00 pm EST hosted by veteran music promoter and radio pioneer Jerry Bryant, provided by corporate sponsor, sponsored by Prodovite, "Nutrition you can feel" vniinc.com. Bryant was involved with the legendary Keith Green, who co-wrote "Love Broke Through" with Stonehill, and covered so beautifully by Phil Keaggy on the album of the same name.
The "Green Room" interview will be a up close and personal opportunity for the artists to share stories, insights into songs, their long friendship, perhaps some techie reflections from master guitar wiz Keaggy and some of the taste of the live event to come. The "Green Room" will also serve as the last opportunity for worldwide fans to purchase tickets for the concert webcast.
The free "Green Room" interview can be seen live on Saturday, June 7th at 7pm at http://www.sntradio.com/webcasts/ followed by the live concert at 7:30 PM.
The concert is described as a "rare and special duet performance" which will feature solo 45 minute sets by both Keaggy and Stonehill featuring highlights from their prolific careers and will culminate in the duo coming together to perform in tandem songs from their album Mystery Highway, with probably some surprises thrown in.
One of the exciting dimensions will be the interactive Social Media platform utilizing Twitter and Facebook. Burkhardt has stated that the legendary artists will actually take song requests at points from fans worldwide on Facebook and Twitter. Fans can follow the Concert Webcast on Twitter at #LIVEfromtOrlando.
"This is a must-see for Keaggy and Stonehill fans, as well as fans of Jesus Music and the roots of CCM. These two have had prolific careers, and Keaggy has often been sited as "one of the best guitarists in the world'." says Burkhardt.
Tickets for the actual concert in Orlando are available via iticket.com for $25 in advance or $35 at the door.
ABOUT PHIL KEAGGY:
Phil Keaggy is perhaps one of the most admired guitarists in music today. His fans range from those who aspire just to be able to play Keaggy's mistakes, to professional musicians who have been strongly influenced by his style. And in between are those who don't play guitar, yet find solace in his beautifully penned lyrics and memorable melodies.
Phil's solo career has spanned more than 30 years, and has included over 50 solo albums, both vocal and instrumental, as well as 8 releases with his band, Glass Harp. One of the most sought after studio guitarists, Phil also continues to sell out concerts all over the United States, with his ever-changing style, ranging from rock-and-roll to fully orchestrated instrumental compositions.
Phil won his very first Dove award in 1988 for his instrumental album, "The Wind and the Wheat. Phil's second Dove Award came in 1992 for his Celtic-influenced, "Beyond Nature". Each year from 1998 to 2001, Phil has dominated the "Instrumental Record" category at the Doves, winning for "Invention", "Acoustic Sketches", "Majesty and Wonder", and most recently "Lights of Madrid". For three years in a row, Phil was voted one of the top fingerstyle guitarists by Guitar Player Magazine readers. For more info go to www.philkeaggy.com.
ABOUT RANDY STONEHILL:
Stonehill's first album, Born Twice was released in 1971, with financial help from Pat Boone. The album—one side a live performance, the other side recorded in a studio—was recorded for a mere $US 800, and according to Stonehill, "sounds like every penny of it!"
A year later, Stonehill made his film acting debut in The Blob sequel, Beware! The Blob (also known as Son of Blob), with Cindy Williams. He also made a cameo appearance in the 1973 Billy Graham film Time to Run, performing his song I Love You.[5]
In 1976, Stonehill released the Larry Norman-produced Welcome to Paradise, with Andy Johns doing the engineering. This became a landmark album for the songwriter and was voted "3rd most important contemporary Christian album" in a mid-1980s poll of Christian music critics.
In the late 1970s, Stonehill would join forces with rock band Daniel Amos for the Amos 'n' Randy Tour. Daniel Amos would go on to be Stonehill's band for his next two releases, and Stonehill would later provide backing vocals on a number of Daniel Amos' projects.
1984's Celebrate This Heartbeat teamed Stonehill with longtime friend Phil Keaggy for the song "Who Will Save The Children?" The two later formed The Keaggy/Stonehill Band in 1989 with Daniel Amos bassist Tim Chandler and Swirling Eddie's David Raven on drums. Keaggy and Stonehill would also team up with singer Margaret Becker, drummer Joe English (former member of Paul McCartney and Wings) and others, in 1988 for the Compassion All Star Band's album One by One.
ABOUT SNT
SnT Radio.com (Spirit and Truth) is first and foremost an online worship experience with the following scripture as its guide: "But the time is coming–indeed it's here now–when true worshippers will worship the Father in spirit and in truth. The Father is looking for those who will worship him that way. " (John 4:23-24) New Living Translation (©2007)
Our mission is to present the highlights from the entire catalogue of Christian Music inspired by the Holy Spirit since the Jesus Movement of the late 1960?s and forward to today. Hence the description, "The Greatest Christian Music". This becomes the background for integrating sounds of Contemporary Worship as inspired by the Holy Spirit.
Our sole purpose is to encourage, edify and enrich the lives of our listeners. We aim to be an oasis for those Believers who labor in increasingly hostile secular work environments.
SnT Radio.com as a concept went live on the internet December 23, 2008 with an hour long commercial free Christmas Music download. Tens of thousands of e-mails and messages were sent worldwide over LinkedIn, ecademy, and Facebook. The SnT website received nearly 60,000 hits on December 24 and 25, 2008. Due to a back injury sustained while helping a homeless person move into a new residence after Christmas, James was finally able to launch SnT Radio.com 24/7 on Memorial Day 2009 and has not looked back. SnT will celebrate it's fifth birthday on May 25, 2014.
James Burkhardt is a multifaceted businessman, musician, producer, and mixing/mastering engineer with a 30 year track record of success in the creative fields of advertising, marketing and broadcasting. Currently operations are based in Orlando, Florida, USA.
For more info on Phil Keaggy visit the JFH Artists Database.
For more info on Randy Stonehill visit the JFH Artists Database.