Introducing the new Mr. and Mrs. Brandon Heath!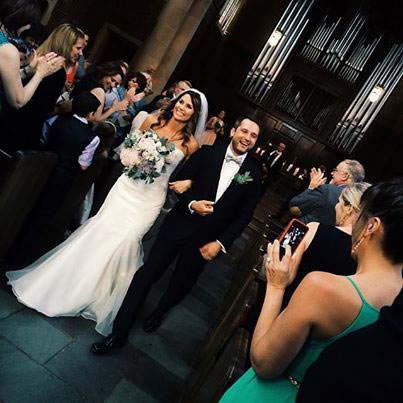 Photos by JKOE studio's Jason Koenig.
NEWS SOURCE: Provident Press
May 27, 2014
Nashville, Tenn. (March 27, 2014) - Brandon Heath married Sunday evening in Nashville, Tennessee. Brandon and his bride, Siebe, were married on Sunday evening, May 25th, in the beautiful Scarritt-Bennett Chapel in Heath's native city.
Country artist and songwriting star Deana Carter sang for the couple's first dance and guests enjoyed a unique biscuit bar and tasty wedding cake.
As a gift to their friends and family, the new couple donated a well in the names of their wedding guests via Blood: Water Mission.
Brandon said of his bride, "I'm a blessed man to marry such a beautiful woman, inside and out. Her heart is soft and her mind is inspiring. Siebe is compassionate and empathetic to all people, and I can't think of a better person to do life with. We've been friends for years and dated for the last two years. We are ready for this next step in our lives, knowing that God will be in the center."
About Brandon Heath:
Since Brandon Heath's debut on Reunion Records with Don't Get Comfortable (2006), he has become one of Christian music's most beloved and respected artists and songwriters. Heath has garnered an Emmy Award, five GRAMMY nominations, an American Music Award nomination, honored as a five-time GMA Dove Award recipient, including Male Vocalist of the Year (2009 and 2010) and multiple songwriting honors. His award-winning songs and signature vocals reflect a soaring radio career that includes top hit songs: "I'm Not Who I Was," "Wait and See," the 2009 GMA Dove Award-winning Song of the Year, "Give Me Your Eyes," the eight-week chart topper, "Your Love," "Jesus In Disguise," "Love Does" and many others.
Heath, a Nashville native, first began writing at age 13. His artistry and ability to connect with audiences have compelled countless media outlets across the nation to platform his story and music. Highlights include Billboard magazine, "CBS Evening News with Katie Couric," Relevant magazine, a 2011 feature by the Wall Street Journal and selection as a presenter during the 54th Annual GRAMMY Awards. Other key spotlights include Discovery Channel's "On The Case With Paula Zahn," which highlighted "Give Me Your Eyes" (What If We 8/19/2008), and a feature by The New York Times Sunday edition, touting Heath as a GRAMMY-nominated newcomer "that shouldn't be allowed to slip through the cracks." Heath released his first Christmas project, Christmas Is Here on Oct. 15, 2013, following recent album, Blue Mountain (Oct. 9, 2012).
About Provident Music Group
Provident Music Group, a division of Sony Music, whose labels include Essential Records, Reunion Records, Essential Worship and Beach Street Records, is home to an artist roster which includes Casting Crowns (new album Thrive released January 28, 2014), Third Day (Miracle), Tenth Avenue North (The Struggle), Red (Release the Panic), Brandon Heath (Christmas Is Here), and Royal Tailor (self titled) among others. PMG also consists of Provident Films ("Courageous," "Fireproof" and "October Baby"), Provident Distribution, Essential Music Publishing and Essential Artist Services divisions.
For more info on Brandon Heath visit the JFH Artists Database.