Thousand Foot Krutch Launch PledgeMusic Campaign To Fund New Album, OXYGEN:INHALE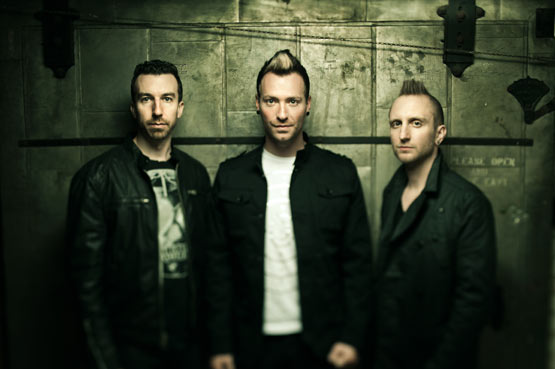 NEWS SOURCE: Jesusfreakhideout.com / TFK
June 1, 2014
Canadian rock band Thousand Foot Krutch is back at it working on a new independent album, the follow-up to their successful 2012 release The End Is Where We Begin. The new album, titled OXYGEN:INHALE is projected for release this August, and the band has turned to fan-funding platform PledgeMusic to fund this new record. The goal this time? $1.00. Needless to say it's a goal that was met in a matter of seconds, making the project already funded and the campaign more of a "pre-order" than anything else. Fans got first crack at gobbling up the incentives starting on Saturday, May 31st, with the campaign being given a wider push this coming week. As we post this, the campaign has rasied over $21,800 in just two days!
About the project, TFK writes:
Yes, we have a new album we are currently recording and want you ALL to be a part of this new phase and new project! http://www.pledgemusic.com/projects/tfk

We did it before and you guys showed up. This time we are approaching it a little differently…..

Because of the last album being funded, we were able to go in directions not traveled before in radio, press, film, and TV, and even having distribution around the world! Now, to show our support to our friends, you the TFK Army, we are going for it…this time the goal is $1. That's right, ONE DOLLAR! http://www.pledgemusic.com/projects/tfk

Why one dollar? Because we are going to do this anyway...for you guys. The difference is that we need your help to take the marketing and promotion to a whole new level. We believe we have the best record brewing from the studio and we just need help to get it out there, because that in itself costs a lot.

So, we've devised exclusive album packaging, apparel, packages and opportunities in this new campaign in order that you, as our fans, will get this one time offer only if you PREORDER it here. AND everyone who purchases a package will get a special code to get 50% OFF at the official TFK online merch store!

We want to engage you as our loyal friends and hear your feedback too. Comment, share the pre order on Pledge Music, and most of all enjoy what we hope you'll believe is our best work as an offering to you our fans, our Creator and to the world. Last time we had just under 2700 backers… do you think we could get this into more hands up front?! http://www.pledgemusic.com/projects/tfk

Look forward to catching up with you guys on the road. Let's get this train rolling!! TFK: Trev, Steve, Joel
To join the campaign, visit http://www.pledgemusic.com/projects/tfk
# # # # #
For more info on Thousand Foot Krutch visit the JFH Artists Database.