FAIR TRADE SERVICES SIGNS CONEMPORARY CLASSICAL VOCAL GROUP, VERITAS
Self-titled project to release through label on September 9, 2014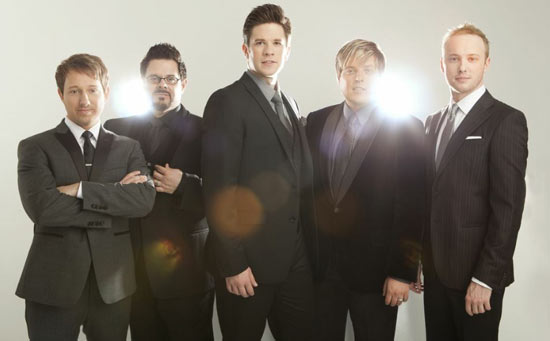 NEWS SOURCE: Rogers & Cowan
June 26, 2014
LOS ANGELES, Calif. (June 26, 2014) - Fair Trade Services announces the signing of Veritas to their acclaimed roster. The contemporary classical vocal group comprised of Jeff Anderson, James Berrian, Andrew Goodwin, Jordan Johnson, and Lucas Scott Lawrence, will release their self-titled album on September 9, 2014.
"We are very excited to welcome Veritas to our Fair Trade roster," says James Rueger, vice president of A&R. "Veritas' powerhouse vocal arrangements combined with huge symphonic orchestration feels like fresh wind to Christian Music. I love that the five guys have already toured across the country, making friends and fans wherever they visit. We look forward to what's in store for this group and upcoming album."
The unmistakable sound of Veritas brings a fresh approach to the contemporary classical genre. Their pop-opera style is fashioned from a fusion of artistic excellence, creative pursuit, and a performance that promises to inspire an audience of any distinction. Each member of the group contributes an array of training, accomplishments, and credentials, in both classical and pop music, which yields an exceptional artistic experience. This experience is the powerful sound of five male vocals, singing both new and old songs, delivering the sound of love, hope, and excellence.
Fair Trade Services is an independent Christian record company that exists to serve artists well. Veritas joins an all-star lineup comprised of some of today's top Christian music performers that include MercyMe, Anthony Evans, Sara Groves, Phil Wickham, Audio Adrenaline and Hawk Nelson, among others.
For more information about Veritas, please visit:
Website: www.veritasfive.com
Twitter: @VeritasFive
Instagram: @VeritasFive
ABOUT FAIR TRADE SERVICES
Fair Trade Services, LLC launched in June 2011 by music industry veteran Jeff Moseley. Fair Trade Services is a partnership based on dialogue, transparency, and respect, formed for the development of remarkable Christian artists who desire artistic excellence, cultural relevance and spiritual significance. Located in Brentwood, Tennessee, their roster includes MercyMe, Laura Story, Audio Adrenaline, The Afters, Phillips, Craig & Dean, Sara Groves, Phil Wickham, Shane & Shane and more. Fair Trade Services is distributed by Provident Distribution and Sony Music. (www.FairTradeServices.com).
# # #