HILLSONG WORSHIP RECEIVES HIGHEST DEBUT WITH NO OTHER NAME
ALBUM TOPS FOUR BILLBOARD CHARTS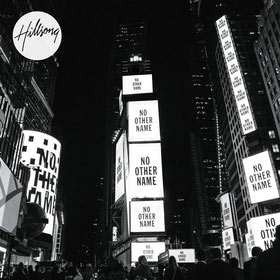 NEWS SOURCE: Merge PR
July 14, 2014
NASHVILLE, TENN. -July 14, 2014- Hillsong Worship released No Other Name recently to chart topping numbers receiving their highest debut in their 26 years of releasing an annual live project. No Other Name debuted on the Billboard Top 200 at No. 13 its first week in the U.S. and at No. 1 on the Billboard Christian/Gospel album chart. As the highest debut from the Hillsong Worship brand, the album also debuted No. 1 on the Christian Gospel Albums, Praise and Worship Albums and Christian Digital Albums charts as well as No. 6 on the Digital Albums chart.
During street week, No Other Name peaked at No. 4 on iTunes Overall Albums chart in the U.S. as well as charting in the Top 10 of iTunes in 13 countries outside of the U.S. including at No. 1 in three countries making a global impact. This project was the first release under the new moniker "Hillsong Worship" and the 26th annual live worship project. Media also praised this new release noting the fresh and creative approach to Hillsong's music on this album. Currently gracing the cover of the latest issue of CCM (July 15, 2014), here are samples of what the media had to say about No Other Name:
"No Other Name is truly stellar. Once again they have released their newest 'best' album." - NewReleaseTuesday
"Hillsong Church continues to release live worship recordings of its annual conference in Sydney, Australia. That kind of legacy can be a lot to live up to, but No Other Name is all about building on that foundation. The album's 11 new praise songs emphasize congregational worship and highlight the Aussie church's determination to remain pioneers in the genre." - Rhapsody
"Hillsong Worship's No Other Name Is like no other" - Music Times
"Hands down, this is easily one of the best worship albums released this year." - Hallels
"Strong lyrics that can be a great help to really teach your congregation to sing theology in a fresh way." -The Church Collective
"Gear up because this album will become a movement. A declarative movement." - Examiner
"Highly recommend it to worship leaders who are looking for something to add to their Sunday morning set list." - Faith Village
Hillsong Worship will be back in the United States for their "No Other Name" Tour that begins one month from today on August 14 in Boston and concluding August 31 in Grand Rapids (dates below). Tickets are on sale now and can be purchased through Premier Productions. Hillsong Worship will also be performing at the 2nd Annual Hillsong Conference in New York City, which will be held at The Theater at Madison Square Garden on October 16-18th. Register now and save here.
About No Other Name: This annual live release features 11 new songs that will refresh an individual and congregational worship. No Other Name highlights the songwriting and vocals of those now well-known Hillsong Worship team, including Reuben Morgan, Ben Fielding, Matt Crocker, Joel Houston, Nigel Hendroff, Autumn Hardmann, Annie Garrett, Jad Gillies, David Ware, and Taya Smith.
About Hillsong Worship: Hillsong Worship is the congregational expression of worship from Hillsong Church - a global church with local expressions. Their music captures the heart and sound of Hillsong Church globally and represents the coming together of the Hillsong worship team from around the world; including Reuben Morgan, Joel Houston, Ben Fielding, Dave Ware, Annie Garratt and many more. Since 1992, Hillsong Hillsong Worship has resourced the local church and received gold and platinum album status multiple times, writing such well known worship songs as "Shout To The Lord", "Inside Out", "Hosanna", "The Stand" and "Mighty to Save," which was awarded the 2009 Dove for Worship Song of the Year. The Hillsong brands have sold more than 12 million albums.
Hillsong Worship "No Other Name" Tour:
August 14 Boston, MA
August 15 Baltimore, MD
August 16 Charlotte, NC
August 18 Baton Rouge, LA
August 19 San Antonio, TX
August 21 Dallas, TX
August 22 Houston, TX
August 23 Tulsa, OK
August 25 Independence, MO
August 27 Springfield, MO
August 28 Cincinnati, OH
August 29 South Barrington, IL (Chicago)
August 30 Minneapolis, MN
August 31 Grand Rapids, MI