Worship Leader Debra Black Helps Listeners Find "God In Every Season" on Debut Album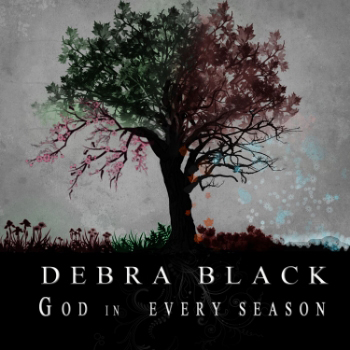 NEWS SOURCE: Nashville PR
August 12, 2014
(NASHVILLE, Tennessee) -- While her name may be new to many Christian music fans, singer-songwriter Debra Black is sure catch the attention of listeners from coast to coast with the release of her debut album, God In Every Season. Produced by Josh Williams, the album is available today wherever digital music is sold, including iTunes and Amazon.
The theme behind God In Every Season came to Black at an unexpected moment when the Lord began to show her a deeper meaning of the seasons and how there is a time and purpose for everything under heaven, as Ecclesiastes 3 states. This summoned imagery of the seasons that stuck with her. It was an endless cycle, and as the vision continued she realized that God had created an identical cycle for everything living.
Black says, "What I love about the cycle of the seasons is just that. It is a cycle. Life is a cycle. God knows just how much of the fall we can stand before He brings the winter to give us rest. He knows just how much rest we need before we are ready for something new, and then he brings the life. He knows just how much heat we can stand and sun we can see before it is time for that thing to die or lay to rest."
Based in Atlanta, Black had already been singing and leading worship for more than a decade when she started working on her music. She founded and pioneered Worship on the Square, a non-profit organization bringing the church body together in city centers to worship God and bring awareness to social causes. Unique, relatable, and possessed of unshakeable faith, Black inspires listeners to take refuge and find trust in God.
"The journey leading up to this release has far surpassed any greater thing I have experienced on a personal level with the Lord," says Black. "He has brought me to this place of surrendering my all to Him and I'm ready to see what He does. He has been an integral part of showing me that Jesus is enough, for my every need. Realizing His plans are far greater than anything I could dream of or ask. He has shown me that there is a time and season for everything under heaven; that His desire is to make everything beautiful in time. There truly is beauty in everything, even the pain, even in the suffering. There is beauty in the breakdown, in the death, in the resting/renewal times, and of course in the growing time. Every season under heaven has a particular plan by Our God to make us more like Him, if we let Him. He is why I live, and why I know love. I'm ready for this adventure and can't wait to see what this next season holds."
The album's debut single, "Be Free," was released this month to radio stations through Nashville-based promotion firm, Shamrock Media Group. In support of the single and album, Black will head into the fall with heavy touring and an upcoming media tour.
For more information, visit the official website at www.debrablackmusic.com.