Krian Music Group's The Strange Familiar Impacts CHR Radio with hit single "Rain"
Radio Impact on August 15th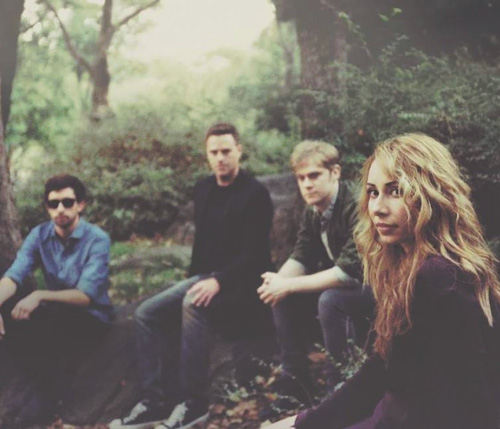 NEWS SOURCE: Big Machine Media
August 15, 2014
(New York, NY - February 15, 2014) - Indie pop outfit, The Strange Familiar's new single, "Rain" will be impacting at CHR radio on August 15th. TSF are known as the 'sync band' with television shows such as Pretty Little Liars (5 x), Cedar Cove, The Vampire Diaries, The Biggest Loser, Switched at Birth, among others. Hailing from Ohio, the band led by husband and wife Jeff and Kira Andrea, have garnered critical acclaim and a healthy, rabid fan base that is anxiously waiting to hear "Rain" over the airwaves.
"This single is very special as it documents my thought process during our first pregnancy. Initially it was meant to be a lullaby, but it turned out to be something totally different," says lead singer Kira Andrea. The song was heavily influenced by the hopes and fears of being a parent for the first time and mirrors the lessons learned though life's struggles conquered by the couple's strong faith. "We were very torn by the push and pull of what it means to bring a child into the world. We prayed constantly that we would make the right decisions for our child. We hope this song will resonate with parents, however we believe that you don't have to be a parent to relate. If you have parents or grandparents that raised you in a loving way - sacrificing and doing all they could to give you the best life possible - that is the healing 'rain' that is showered on one's life. We hope this will strike a chord," says the couple.
The song had so much of an impact on the couple's life that they named their now 14-month-old baby girl Rayne. "She was such a miracle because at birth I had complications that required surgery that landed me in intensive care. It was the scariest time in my life. The song came flooding back and quickly became a testimony of our faith!" exclaimed Kira. The essence of the song took on a new meaning when the Andrea's realized that the 'rain' of faith in their lives was God bringing them through a time of suffering, and when they came out on the other side they were braver, tougher and more selfless than they were before. It was then the bond of love between a father, mother and child was strengthened. "We will always share this story with Rayne and show her that she is a walking, breathing answer to prayer and a true test of faith. We pray that this sets a strong foundation in our faith in Christ for our daughter to take with her to face the world."
"Rain" is featured on the band's new album, The Day The Light Went Out, which is their second full-length release, on Krian Music Group.
For more information and to keep up to date with The Strange Familiar, please visit:
www.thestrangefamiliar.com
www.facebook.com/thestrangefamiliar
www.twitter.com/tsfmusic
www.youtube.com/user/thestrangefamiliar
###