Fireflight Singer Announces Pregnancy; New Album Delayed Till May 2015 Release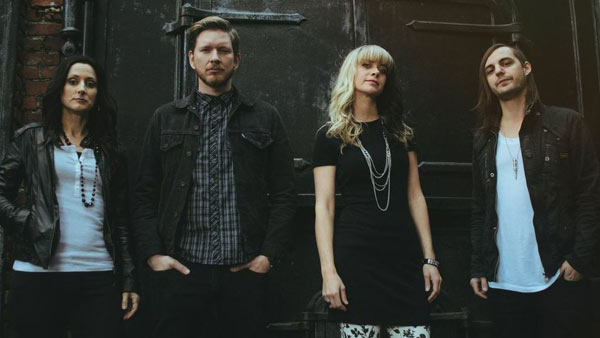 NEWS SOURCE: Fireflight / Jesusfreakhideout.com
September 6, 2014
Rock band Fireflight has been spending much of their newly-independent status, after leaving their home label of Provident, working on a new album, titled INNOVA. The album was originally slated for release this fall, but along with yesterday's news of vocalist Dawn Michele's pregnancy came the bittersweet news of the album's delay. INNOVA will now be unveiled on May 5, 2015.
Dawn Michele and her husband, former Wavorly bassist (and frequent live House of Heroes bassist) Matt Lott announced the pregnancy on social media and through the band's PledgeMusic campaign, also mentioning the album's delayed release date. Dawn announced, "My husband Matt and I, together with our families, are very excited to have discovered that we are pregnant! We are so thrilled to have the privilege of sharing this happy news with you all, whom we consider to be our extended family tree. Each of our branches grow from the same source of life and love, God our Father, and we joyfully welcome a new branch."
To answer the question about the future of INNOVA, the band stated, "...we will need to delay the release a bit to provide Dawn the opportunity to focus on her pregnancy. This extra time will also afford Fireflight added time to develop INNOVA and concentrate our efforts on making the release as successful as possible."
"The official release date for INNOVA will be May 5, 2015," the announcement continued. "We realize this seems a long time away. Especially for our amazing Pledgers that helped us make this record. All that we can ask is for your grace, blessings and understanding as we navigate this slight delay. Why May 5, 2015? This is approximately one month after Dawn Michele's due date in early April. As releasing and touring a new record is an extensive and exhaustive process we want Dawn to be able to rest and enjoy the first weeks of motherhood before having to immediately tackle the grueling schedule of releasing and touring a new record. May 5, 2015 is also quite an interesting date in regards to Fireflight history. Fireflight was formed in May of 2000 and will be celebrating it's 15th year as a band. This will also be Fireflight's 5th studio album! 5/5/15… pretty cool date to look forward to!"
Keep your eyes peeled to the band's official Facebook page for the latest news. And you can still pre-order INNOVA at PledgeMusic to get insider updates -- www.pledgemusic.com/projects/fireflight
And from all of us at JFH -- congrats to Dawn and Matt!
- ### -
For more info on Fireflight visit the JFH Artists Database.