SANDI PATTY ANNOUNCES THE RELEASE OF CHRISTMAS BLESSINGS FEATURING A NEW ORIGINAL, "THE LITTLE THINGS" AND 13 TIMELESS CLASSICS
CHRISTMAS BLESSINGS EXCLUSIVES AVAILABLE AT CRACKER BARREL OLD COUNTRY STORE (SEPTEMBER 8) & TARGET (NOVEMBER 2), AVAILABLE DIGITALLY OCTOBER 14

PATTY'S CHRISTMAS BLESSINGS TOUR TO VISIT 15 CITIES COAST TO COAST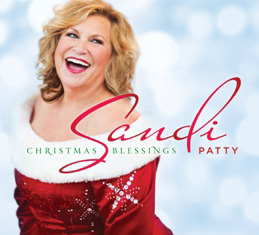 NEWS SOURCE: Big Machine Media
September 8, 2014
(New York, NY - September 8, 2014) Grammy Award Winning Contemporary Christian Music Superstar Sandi Patty has announced the release of her holiday album, Christmas Blessings. Available digitally on October 14th, exclusives will be available via the retailers, Cracker Barrel Old Country Store on September 8 and Target on November 2nd. The album includes brand new recordings and original arrangements of Christmas classics and will feature "The Little Things", an original song co-written by Patty.
In addition, Patty will tour the country when her Christmas Blessings Tour kicks off on November 21. The tour will make 15 stops in cities coast to coast for over 20 performances. Patty will also be spreading the good news of clean water solutions provided by Water4 throughout the most needed areas of the world. For more information, visit water4.org.
Sandi Patty is the most awarded female vocalist in contemporary Christian music history, with five Grammy Awards (including Best Pop Gospel Album), four Billboard Music Awards and 40 Dove Awards during her illustrious 30-year career. She has sold more than 11 million records, with three certified platinum and five certified gold, earning her the name "The Voice." In 2004, she was inducted into Gospel Music Hall of Fame and in addition to presenting at this year's Dove Awards Patty is nominated yet again for Inspirational Album of the Year for Everlasting.
Christmas Blessings Includes:
1. Angels We Have Heard on High
2. O Holy Night
3. The Little Things
4. The Christmas Song
5. Mary, Did You Know?
6. I Heard The Bells on Christmas Day
7. What Child Is This?
8. Joy To The World
9. Sleigh Ride
10. Some Children See Him
11. Auld Lang Syne
12. Have Yourself a Merry Little Christmas
13. Winter Wonderland
14. Count Your Blessings
15. Go Tell It On The Mountain (Target Exclusive)
16. Christmas Time Is Here/O Christmas Tree w/Jim Brickman (Target Exclusive)
17. Grown Up Christmas List (Cracker Barrel Old Country Store Exclusive)
18. Silent Night (Cracker Barrel Old Country Store Exclusive)
Sandi Patty will be touring in support of Christmas Blessings. All dates below.
Tour Dates:
November 21: Branson, MO, Oak Ridge Boys Theatre
November 22: Branson, MO, Oak Ridge Boys Theatre
November 25: Indianapolis, IN, Hilbert Circle Theatre with Indianapolis Symphony Orchestra
December 1: Bowling Green, KY, Southern Kentucky Performing Arts Center with Orchestra Kentucky
December 2: Clarksville, TN, APSU Memorial Health Red Barn
December 4: Branson, MO, Oak Ridge Boys Theatre
December 5: Branson, MO, Oak Ridge Boys Theatre
December 6: Branson, MO, Oak Ridge Boys Theatre
December 7: Findlay, OH, Findlay High School
December 9: Louisville, KY, St. Matthews Baptist Church
December 11: Fort Worth, TX, Cara Manana Theatre
December 12: Bryan, TX, First Baptist Church
December 13: Bryan, TX, First Baptist Church
December 15: Kerrville, TX, Caillous Theatre
December 16: Wichita, KS, Central Community Church
December 18: Costa Mesa, CA, Renee and Henry Segerstrom Concert Hall with Pacific Symphony
December 19: Costa Mesa, CA, Renee and Henry Segerstrom Concert Hall with Pacific Symphony
December 20: Costa Mesa, CA, Renee and Henry Segerstrom Concert Hall with Pacific Symphony
December 21: Springdale, OH, Springdale Church of Nazarene
December 23: Grand Rapids, MI, Devos Place with Grand Rapids Symphony
For more information and to stay up to date with Sandi Patty, please visit:
sandipatty.com
facebook.com/Sandi.Patty.Music
twitter.com/SandiPattyP
youtube.com/user/sandipattymusic
# # #