JAYE THOMAS CELEBRATES TOP 10 DEBUT WITH
HERE IS MY WORSHIP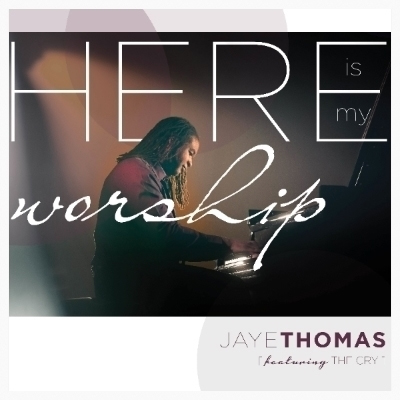 NEWS SOURCE: Forerunner Music
September 26, 2014
Kansas City, Mo. (September 26, 2014) - Here Is My Worship, the new solo project from International House of Prayer (IHOPKC) worship artist Jaye Thomas, debuted at No. 8 on Soundscan's Praise & Worship chart upon its release on September 9 via Forerunner Music. Moreover, Here Is My Worship also landed at No. 27 on the overall Contemporary Christian Albums chart, marking Thomas' highest chart positioning to date.
"We couldn't be prouder to partner with Jaye Thomas on Here Is My Worship," shares Forerunner Music President Nick Syrett. "We consider it an honor to support him as he shares the Gospel around the world through his powerful music."
Here Is My Worship was recorded live during IHOPKC's annual Onething conference where more than 25,000 young adults gathered for extended times of worship, Bible teaching and ministry in downtown Kansas City. The album serves as Thomas' sophomore full-length album and is available at digital retailers and Christian retail outlets nationwide.
"I am humbled and overwhelmed that so many are encountering the Lord through this album," adds Thomas. "I loved recording and producing it and am touched that so many are sharing my joy and enthusiasm in it."
Thomas has been a household name among the IHOPKC community since moving to Kansas City in 2008 and is well known for his many original songs that have been featured on various Forerunner Music compilations and Onething Live albums.
In addition to leading worship at IHOPKC regularly, this fall Thomas will be a guest worship leader at a variety of conferences and events across the country. For a full list of tour dates and cities, visit www.jayethomas.com.
ABOUT JAYE THOMAS
Jaye Thomas is a full-time worship leader at the International House of Prayer in Kansas City, Mo. (IHOPKC), and travels the world leading, teaching, training and raising up a company of prophetic worshippers. Since 2008, he has been featured on more than 20 albums as part of the Forerunner Music family and has written and recorded with well-respected artists like Misty Edwards, Cory Asbury, Davy Flowers, Justin Rizzo and Julie Meyer, among others. His latest solo effort, Here Is My Worship, released September 9, 2014.
ABOUT FORERUNNER MUSIC
Forerunner Music is the official record label of the International House of Prayer of Kansas City, Mo., an evangelical missions organization centered on 24/7 worship and prayer. Having released more than 150 albums since its inception in 2001, the label has produced records for artists such as Misty Edwards, Laura Hackett and Matt Gilman, among others. Forerunner Music albums have reached as high as No. 9 on the Billboard charts and No. 1 on iTunes' Christian & Gospel charts. Visit forerunnermusic.com for more information.
ABOUT THE INTERNATIONAL HOUSE OF PRAYER OF KANSAS CITY
The International House of Prayer of Kansas City (IHOPKC) is a 24/7 prayer ministry that has held worship-led prayer meetings non-stop for 15 years. Since 1999, bands of 10 or more singers and musicians have led an unending cycle of two-hour prayer-and-worship sets-all day and night-in the ministry's Global Prayer Room. The ministry streams this continual worship and prayer live on its website and is watched by tens of thousands of people each day from around the world.
Official Website: www.ihopkc.org/hereismyworship
###