TUNE-IN: Grammy Award Winner Lecrae Teams Up With Live Nation And Yahoo To Live Stream His Concert From The Anomaly Tour On Sunday, October 12th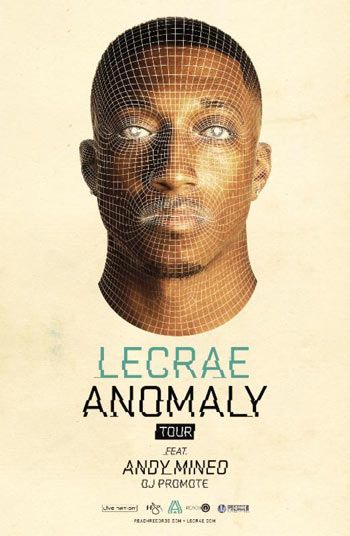 NEWS SOURCE: Stache Media
October 10, 2014
On Sunday night (Oct. 12) fans can tune in at 8:30pm (PST) to watch Lecrae's concert live. Lecrae has teamed up with Live Nation and Yahoo to live-stream his October 12, 2014 concert live from the Anomaly Tour at the Hollywood Palladium in Hollywood, CA. This is one of 365 concerts to stream over a 12-month period on the Live Nation Channel on Yahoo Screen. Fans can tune in on October 12th at 8:30pm (PST) here. Fans will also have the freedom to stream the concert wherever they are through Yahoo Screen on iOS, Android, mobile Web, desktop, and Smart TV platforms including Apple TV, Roku, and Xbox 360.
ABOUT LECRAE
On Tuesday, Sept. 9th, Grammy-award winning hip-hop artist Lecrae released his seventh studio album, Anomaly to critical acclaim. The album has now officially debuted at #1 on the Billboard 200 Album Chart as well as several other Billboard charts including, Digital Album, Rap Album, Christian Album and Gospel Album. As noted by Billboard Magazine, "Anomaly is the Grammy winner's sixth No. 1 on the Gospel Albums chart and his fifth leader on Christian Albums." Consequently this means that, "Anomaly is the first title to crown both Gospel Albums and the Billboard 200, and just the fifth set to lead both Christian Albums and the Billboard 200."
Lecrae has been praised by mainstream and hip-hop press alike with features in Time Magazine, RollingStone Magazine, XXL, Essence Magazine, Billboard and Vibe Magazine, among others. Radio personality and MTV News Executive Producer Sway Calloway recently proclaimed Lecrae's music as the "Evolution of Hip-Hop." Lecrae sat in with The Roots on The Tonight Show as a guest star performing his hit, "All I Need Is You," amongst other records on Thursday, Sept. 18, 2014.
Upcoming Lecrae Anomaly Tour Dates
October 9** Paramount Theatre | Denver, CO
October 10** Abravanel Hall | Salt Lake City, UT
October 11 Grand Canyon University Arena | Phoenix, AZ
October 12 Hollywood Palladium | Los Angeles, CA
October 15 The Warfield | San Francisco, CA
October 17 Crystal Ballroom | Portland, OR
October 18 Revolution Concert House & Event Center | Boise, ID
October 19 ShoWare Center | Seattle, WA
October 23 The Riverside | Milwaukee, WI
October 24 Skyway Theatre | Minneapolis, MN
October 25 Independence Events Center | Independence, MO
October 26 Aragon Entertainment Center | Chicago, IL
October 30 The DeltaPlex | Grand Rapids, MI
October 31 Murat Theatre at Old National Centre | Indianapolis, IN
November 1 The Louisville Palace | Louisville, KY
November 2 The Fillmore Silver Spring | Washington, D.C.
November 6 The Fillmore Detroit | Detroit, MI
November 7 Canton Memorial Civic Center | Canton, OH
November 8 Wellmont Theater | Montclair, NJ
November 9 Tower Theater | Philadelphia, PA
November 13 Times-Union Center Moran Theater | Jacksonville, FL
November 14 The Fillmore Miami Beach | Miami, FL
November 15 House of Blues | Orlando, FL
November 16 The Ritz | Raleigh, NC
November 19 Mobile Civic Center Theater | Mobile, AL
November 20 Greensboro Coliseum Special Events Center | Greensboro, NC
November 21 The Tabernacle | Atlanta, GA
** Trip Lee will be on the tour in lieu of Andy Mineo
For a complete venue listing and ticket information, please visit: http://www.PremierProductions.com or http://reachrecords.com/events.
'Anomaly' in the iTunes store
'Anomaly' at Amazon.com

'Anomaly' at Google Play

- ### -
For more info on Lecrae visit the JFH Artists Database.