Newcomer Lauren Daigle Top 20 on Billboard Christian Charts and
No. 4 on iTunes Christian/Gospel Songs
NEWS SOURCE: Bozeman Media
October 17, 2014
Nashville, TN (October 17, 2014) ---- Centricity Music's Lauren Daigle has blasted onto the music and retail charts with her new project, How Can It Be. The title track is the first single and already is No. 4 on iTunes Christian/Gospel Songs chart and at Billboard is No. 16 on NCA and AC Monitored Charts, and No. 13 at AC Indicator. At the same time, Daigle's new EP is No. 14 on iTunes Christian/Gospel Top Albums chart. Media is also chiming in with strong accolades for Daigle's talent with Hallels.com saying, we can't help but be drawn in, and The Sound Opinion names the single, "How Can It Be," TSO Pick of the Week and adding, we already love her!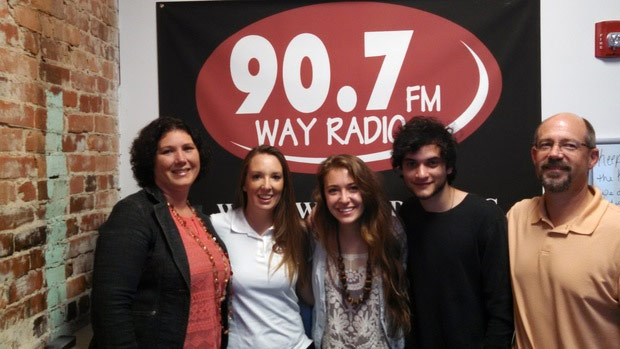 Left to Right: Jennifer Krouse, Midday Show Host; Jayme Summers, Afternoon Host, WAYR; Lauren Daigle, Brannon McLeod, Guitar Player; Bart Wagner, Program Director/Morning Show Host, WAYR
Daigle has been busy this month visiting radio stations in the Southeast that included Mike Blakemore at The Fish/Atlanta; Brian Strickland at Christian FM, Vero Beach, FL; WAY Radio staff, Jacksonville, FL; Greg Cassiday at The Pulse, Gainesville, GA and Jen Winborn and Tate Luck at WPOZ, Orlando, FL.
Daigle is currently performing on Aaron Shust's The Morning Rises Fall Tour that runs through October 19th in Mt. Vernon, IL. For more tour updates on Daigle please visit www.laurendaigle.com, at Facebook, www.facebook.com/laurendaiglemusic and Twitter, @Lauren_Daigle.
- ### -
For more info on Lauren Daigle visit the JFH Artists Database.