MULTIPLE-GRAMMY NOMINEE MATTHEW WEST BEGINS WRITING FOR NEW STUDIO ALBUM
WEST IS MAKING A DIFFERENCE BY TURNING THE MICROPHONE AROUND AND GIVING A VOICE TO FAN STORIES INSPIRING HIS NEXT ALBUM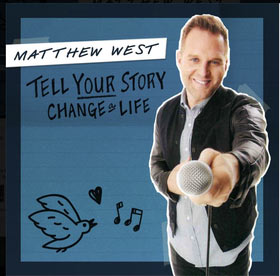 NEWS SOURCE: Merge PR
October 30, 2014
NASHVILLE, TENN -October 30, 2014 - Multiple-GRAMMY nominee, American Music Award and Billboard Music Award winner Matthew West is on a mission to tell a story of a different kind with his music - to transform listeners' stories into life-changing songs. With more than 30,000 stories collected since 2009 from every state in the US and more than 20 countries around the world, West has a very unique connection with his fans. As stories continue to come in daily, he has been motivated to pen a third album based on these inspirations. Click here to tell Matthew your own story.
West has currently made a secluded cabin his home where he's spending this season reading story submissions, searching for ones that resonate with him as he's crafting new songs. He approaches this creative process with great care as he senses many people have been made to feel like they are insignificant or unimportant.
"Your life is unique and the story of your life is a one in a million story that was meant to impact the world in a special way," West shares with his listeners. "For that story to get out, though, you must share it. There is no power in simply being a storykeeper. The true impact lies in being storytellers."
These stories have changed West's life, as he has not only written his last two projects inspired by fans, but he has also traveled to meet the storytellers. Over the years, he has also surprised fans creating an experience to connect personally and play the songs he wrote for them.
"As stories pour in by the thousands, I am reminded that not only is there something special taking place, but that my life has been influenced by each story read," explains West. "My eyes are opened to see the world outside my door like I have never witnessed before."
West's critically-acclaimed releases The Story of Your Life (2009) and Into The Light (2012) were inspired by thousands of personal stories submitted, garnering attention from CNN Online, The New York Times, Fox News, Billboard, Country Weekly, American Songwriter, among others. The Story of Your Life featured the multiple week No. 1 song "Strong Enough." Into The Light produced the No. 1 singles "Forgiveness" and "Hello My Name Is," which was No. 1 on the National Christian radio chart for 17 weeks straight, officially breaking the record for the most weeks at No. 1 as well as "Do Something," which charted in the Top 5 at radio.
This fall West will be performing at Women of Faith events around the country along with other dates. Check out his site for the most current dates.
ABOUT MATTHEW WEST: Matthew West is a multiple-ASCAP Christian Music Songwriter/Artist of the Year winner, a four-time GRAMMY® nominee, and was recently awarded his first American Music Award (2013) and a Billboard Music Award (2014). Matthew West's discography includes acclaimed releases: Happy (2003), History (2005), Something to Say (2008), The Story of Your Life (2010) and GRAMMY-nominated Into The Light (2012). West was nominated for a Primetime Emmy® Award for Original Music & Lyrics for "The Heart of Christmas" from the film of the same name. His songwriting credits include cuts by Rascal Flatts, Billy Ray Cyrus, Diamond Rio and more. He spent much of late 2012 and early 2013 on a pre-headlining stint on WinterJam Tour Spectacular, the No. 1 tour in the world. He wrapped 2013 with his own headlining in the fall of 2013 and "The Story Tour" in December. During 2014, West toured with the "Hits Deep Tour" as well as his sell-out "Hello My Name Is…" acoustic tour.
For more info on Matthew West visit the JFH Artists Database.

- ### -